Rowan makes hand sanitizer for emergency use
Rowan makes hand sanitizer for emergency use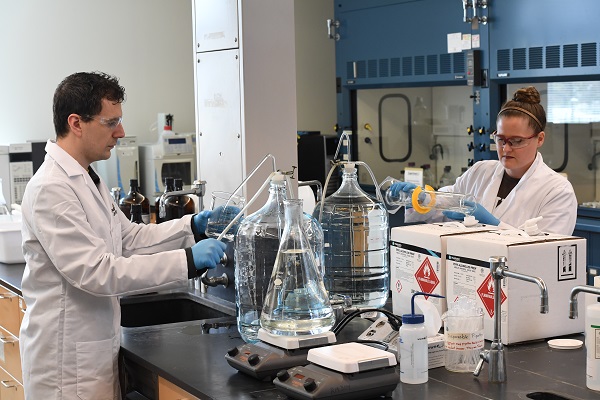 Jim and Kaitlin Grinias make hand sanitizer with Rowan-donated materials.
When Jim Grinias heard local distilleries were producing batches of alcohol-based hand sanitizer to answer an emergency shortage, the Rowan University chemistry professor realized he could help, too. 
With most University research shut down due to the pandemic, Grinias used his lab and Rowan-donated materials this week to produce nearly 20 gallons of hand sanitizer, following a recipe and guidance issued by the World Health Organization and the U.S. Department of Health and Human Services. 
"It seems like a lot, but I think it's a drop in the bucket compared to what's needed," said Grinias. "Everyone needs to chip in and do what they can." 
The necessary ingredients were donated by labs across Rowan's College of Science & Mathematics: ethanol, hydrogen peroxide and glycerol. Researchers also donated gallons of isopropyl rubbing alcohol and bleach for distribution by the Gloucester County Office of Emergency Management to hospitals, nursing homes and first responders.
"We cleared it out," said Grinias, an assistant professor who teaches analytical chemistry. "We were able to find everything. It was all hands on deck." 
Academic labs have special licenses to buy 200-proof pure ethanol, sometimes used by chemists as a solvent for certain chemical reactions. Biology departments use it as a sanitizer. 
"It's a standard, routine chemical," Grinias said. "Lots of chemistry departments have it on hand." 
Concerned about social distancing recommendations, Grinias recruited an in-house lab assistant: his wife, Kaitlin, an automation chemist who works in the pharmaceutical industry. 
The couple spent six hours in the lab Wednesday, sterilizing instruments, boiling large flasks of purified water and mixing the chemicals. Thanks to the labs' extra-strength ethanol, the recipe resulted in a compound containing about 80 percent alcohol, the main ingredient used to destroy viruses lurking on surfaces.  
They delivered the finished product to Cooper Medical School of Rowan University in Camden, where it will be made available for emergency use by Cooper University Health Care providers.
"Our clinical partner, Cooper University Health Care, is working hard to ensure they are fully prepared for the expected  surge of patients with COVID-19 over the next few weeks," said Annette C. Reboli, MD, dean of CMSRU. "I'm so proud that our Rowan community is stepping up to make sure that our clinical faculty, and all the health care providers at Cooper, have what they need to care for the patients of South Jersey."