NSF Partnerships for Innovation grant, a Rowan first, funds new corneal adhesive
NSF Partnerships for Innovation grant, a Rowan first, funds new corneal adhesive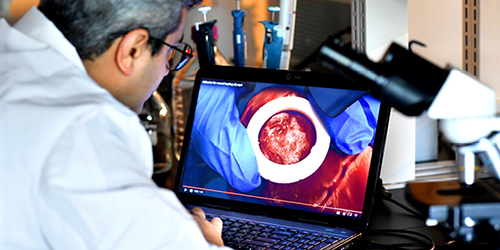 Three years ago, Rowan University's Dr. Iman Noshadi and his team began researching new medical uses for a particular chemical compound, a transparent, sticky liquid with antibacterial properties. 
"That is when the idea of a corneal adhesive struck our mind as a possible alternative application," said Noshadi, an assistant professor of chemical engineering. 
Perhaps, the team thought, this biocompatible adhesive could be used to repair tears and perforations of the cornea, the clear outer layer at the front of the eye. 
First, they needed capital and a crash course in the business of bringing new ideas to the commercial market. They turned to the National Science Foundation for help. 
Through the foundation's Innovation Corps program, Noshadi became the first Rowan University researcher to receive the NSF Partnerships for Innovation grant. 
The $250,000 award enables Noshadi's team to develop a prototype and move the product closer to market, explained Dr. Yatin Karpe, director of Technology Commercialization for Rowan Innovations. 
"It's not what faculty innovators think is important, but what the market needs" that matters, Karpe explained. 
That's why Karpe urges Rowan innovators to apply first to the foundation's I-Corps program, a seven-week, grant-funded training program that has hatched more than 640 new startups nationally since its launch in 2011. 
In just two years, eight Rowan faculty have been accepted into the national I-Corps program, while more have gone through the regional I-Corps programs, guided by mentors at other universities. 
Noshadi's team used its initial $50,000 I-Corps grant to map the market for corneal repair and transplant. Through the I-Corps program, teams get feedback from 100 customers across the ecosystem, from distributors to manufacturers to end users. 
"In this early stage, many teams don't know who their customers are at a very basic level," said Christina Pellicane, director of Commercialization Programs at the University of Delaware's Horn Entrepreneurship program. Pellicane occasionally assists teams from Rowan at the University of Delaware's I-Corps site.
"Customer discovery was an eye opener," Noshadi said. 
Worldwide, 18 million people are blind due to corneal tears. Although 185,000 of those patients undergo corneal grafting, existing treatments can lead to infections, astigmatism and other complications that might be avoided with the corneal adhesive.
The new adhesive, called BiGel, "can attach to wet surfaces and stop bleeding within seconds," said Vaishali Krishnadoss, a third-year graduate student in Noshadi's lab. "Potentially, that can be used by trauma surgeons in the ER."  
Two years into development, and a publication and nonprovisional patent later, Noshadi's team is ready to refine the product. 
The latest funding enables further research that Noshadi hopes will lead to approval from the Food and Drug Administration, the biggest obstacle to bringing the invention to the market. 
Such funding opportunities are critical, said Dr. Beena Sukumaran, vice president for research at Rowan University.
"We set up Rowan Innovations with projects like Dr. Noshadi's in mind, where we nurture and grow faculty by fostering innovation and cultivating the entrepreneurial mindset," Sukumaran said. "Dr. Noshadi, as the first recipient of the NSF Partnerships for Innovation grant at Rowan University, has done a lot of work to get to this stage and we are very proud of his achievement."