Rowan engineer adapts scuba gear for medical use
Rowan engineer adapts scuba gear for medical use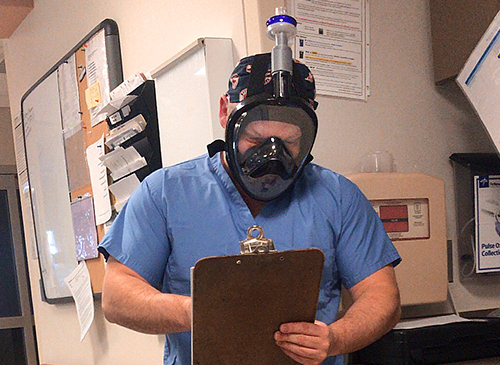 Dr. Sean McMillan, Virtua Health
A surgeon wearing a scuba diving mask on the job is a strange sight in normal times, but these are not normal times.    
Personal protective equipment is in short supply worldwide, and Rowan University engineers are stepping up to help protect area medical providers. 
Acting on a request from a Virtua Health orthopedic surgeon, a Rowan biomedical engineering lecturer recently made 3D-printed couplings to attach hospital ventilator filters to the snorkel tubing on scuba diving masks. 
The parts were printed using designs developed by Dr. Roberto Miki, a Florida hand surgeon. Dr. Rahul Shah, a South Jersey orthopedic surgeon, obtained the designs and shared them with Dr. Sean McMillan, chief of orthopedics for Virtua Our Lady of Lourdes Hospital and Virtua Willingboro Hospital. 
Rowan's Dr. Erik Brewer delivered the couplings to McMillan a day after receiving the request. 
"Currently, filters are a lot more available than respirators," explained Brewer, chair of innovation and external partnerships within the Department of Biomedical Engineering. "This is a way of making use of products that are not in short supply elsewhere." 
The couplings take about two hours to print, and are made from PLA (poly lactic acid) filament, a biodegradable, plant-based plastic. 
Though the masks are approved for diving, and the filters are approved for hospital equipment, the adapted masks are meant only for emergency use if properly tested personal protective gear is not available. McMillan changes the filter daily. 
"I wear it in the hospital, especially when I'm near COVID-19 patients," said McMillan, who also teaches at Rowan University School of Osteopathic Medicine. "It protects not only my respiratory breathing, but also my eyes and other membranes, so I'm safe all around."
Since the pandemic swept into New Jersey, Rowan University engineering faculty and students have been working on other requests from South Jersey health systems for creative equipment solutions, including intubation boxes, new adapters to attach filters to respiratory masks from various manufacturers, and 3D-printed face masks that can be washed, disinfected and reused.
In each case, the materials, labor and delivery costs were donated by the university. 
Those efforts are a natural extension of the long-time working relationships developed by Rowan faculty with area companies and health systems, so students can work on real-world, cutting-edge projects, said Dr. Mark Byrne, a Rowan professor and Biomedical Engineering's founding department head. 
Right now, the country is scrambling to respond to the coronavirus pandemic, and Rowan is a part of that effort.  
"It's wonderful to help first-line providers in a meaningful way," Byrne said. "We're trained to efficiently and effectively solve pressing problems in the medical field and develop solutions, especially when it counts."