Rowan alumnus "Quarantunes" on Instagram for N.Y. charities
Rowan alumnus "Quarantunes" on Instagram for N.Y. charities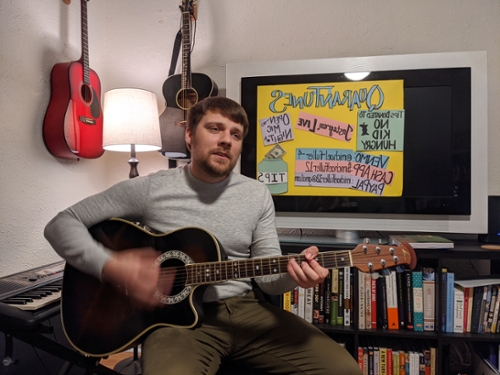 Mike Fuller "Quarantunes" on Instagram
Like much of America, Rowan alumnus Michael Fuller is stuck at home, riding out the quarantine online.
Unlike most of America, the longtime guitarist has turned to Instagram to not only stay connected with family and friends but to help those who are helping others in and around his adopted neighborhood of Carroll Gardens, Brooklyn.
By day a digital marketing professional, Fuller '11 and some of his musical friends launched a weekly Instagram Live program at night called "Quarantunes" in which they play music, post a virtual "tip jar," and donate its proceeds to such organizations as the Food Bank for New York City and Citymeals on Wheels.
In the five weeks since it started, the program, running Wednesdays at 8 p.m., has raised more than $2,240 and been featured on NBC4 New York. Though Quarantunes runs live, it remains in his Instagram story for 24 hours where friends and family of his and his affiliated musicians catch it throughout the next day.
"A little over a month ago I went to an open mic night around the corner but got a little bummed because I knew that was a thing I couldn't continue for a while because of the stay at home," he said. "An artist we follow was going to do a live stream and I thought it would be a cool idea to take the open mic space and bring it to the digital environment and that's how Quarantunes was born."
Joined by musician friends as far away as Texas and Florida who share the Instagram Live space, Fuller said some nights as many as 250 people tune in to watch.
Fuller said it feels good to do what he can and he's thrilled that so many others have signed on each week for the ride.
Originally from Hamilton Township, Mercer County, Fuller, a business management and marketing double major, worked at the Rec Center while at Rowan, was a guest host on 89.7 WGLS-FM and played varsity soccer.
Sharing a 700 square foot apartment with his girlfriend, he acknowledged that quarantining isn't easy, but he's not complaining. They work from home, garden and make the most of it.
"It's getting hard to find a place to do laundry and grocery shopping is difficult but I'm grateful to have it as good as we do," he said. "We see people on the front lines every day and I wanted to do something to pitch in. Raising a few dollars here and there, I know it's not a lot, but it feels good that we're giving a little back."