Rowan University's two medical schools will offer early graduation to aid fight against coronavirus
Rowan University's two medical schools will offer early graduation to aid fight against coronavirus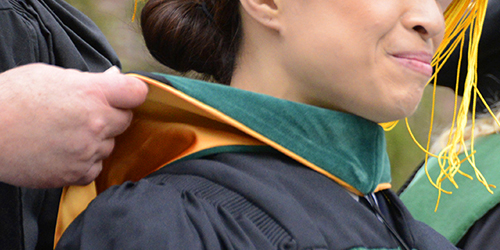 In a bold response to the COVID-19 pandemic, Rowan University's two medical schools are enabling their fourth-year students to graduate early — and join the health care workforce — weeks ahead of schedule.
Both Cooper Medical School of Rowan University (CMSRU) and Rowan University School of Osteopathic Medicine normally graduate students in mid-May, and the newly minted physicians start their hospital residencies on July 1. Under the new policy, qualified students will be able to complete medical school as early as mid-April and either start their residency shortly thereafter if the graduate medical education program accepts them to start early, or join the workforce in another capacity as an employee or volunteer.
"Our medical students are passionate about helping others. They don't want to wait on the sidelines during this unprecedented public health crisis," said Annette C. Reboli, M.D., CMSRU dean.
Early graduation will allow the new doctors to help address staff shortages as health care professionals care for COVID-19 patients or are unable to work.
The new physicians can mainly care for those with other needs, as more of the medical workforce tends to the surge of COVID-19 patients, Reboli explained.
"By graduating early, our students can make a huge difference in hospitals' ability to care for patients and save lives," said Thomas Cavalieri, D.O., RowanSOM dean.
At CMSRU, nearly one third of the school's 79 fourth-year students reported they would like to graduate ahead of schedule. Cavalieri expects a similarly high level of interest among RowanSOM's 180-member graduating class.
While the initiative is voluntary, requirements include:
The student must have fulfilled all graduation requirements. Most fourth-year students at CMRSU and RowanSOM have already met this standard, and the schools have informed graduating students of any unmet requirements.
The student must contact the hospital where they will do their residency and obtain the hospital's agreement for the early start date. They must honor their match agreement, according to Reboli.
The hospital must be able to provide the same processes and supports that it normally provides to new residents, such as orientation, credentialing, faculty supervision and implementation of all applicable rules and regulations.
"Both schools will work with students who choose the early graduation option to ensure as smooth a transition as possible," said Reboli.
Many of the graduates will join health systems in New Jersey, which has the second-highest number of COVID-19 cases nationwide, noted Cavalieri.
At RowanSOM, half of this year's graduating class has accepted residencies in the state's health systems, including Jefferson Health New Jersey, Cooper University Health Care, and Inspira Health. CMSRU will send 32 percent of its 2020 graduates to New Jersey institutions, with a large portion going to Cooper, the school's teaching affiliate.
"By graduating sooner, our students will help allay the tremendous physician shortages expected in our state," Cavalieri said.
Some students will go to parts of the country where COVID-19 rates are low right now. While those hospitals may not need new physicians to start early, situations can change quickly as new coronavirus hot spots emerge. CMSRU and RowanSOM students can opt into the early graduation program as needs shift.
Both schools are planning early graduation ceremonies — held virtually — in the coming weeks. Details will be announced soon.
"I am incredibly proud of our graduating medical students," said Rowan University President Ali Houshmand. "This is a uniquely difficult time in our country and the world, but I'm confident that these wonderful new doctors are up to the challenges they'll face. They will continue to do great things for their patients, colleagues and society, and the Rowan community will be here to support them and cheer them on."