"Futures" recycling plan by Earth & Environment and RCB faculty could revolutionize the industry
"Futures" recycling plan by Earth & Environment and RCB faculty could revolutionize the industry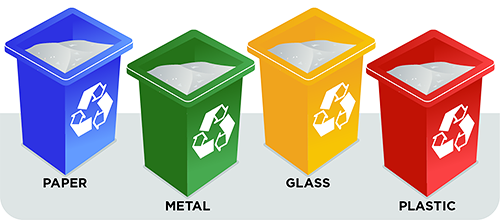 A new study by faculty from Rowan University's School of Earth & Environment and Rohrer College of Business (RCB) could literally move recycling into the future.
The study, headed by Dr. Jordan P. Howell (who holds appointments in both Earth & Environment and the RCB), Dr. Jordan Moore (RCB) and Dr. Daniel Folkinshteyn (RCB), proposes the creation of a "futures" market for recycled material that would guarantee to manufacturers, who might incorporate recycled metal, plastic and paper into new items, that they are of the highest quality.
"With futures contracts, quality is guaranteed in a wide range of products, from pork bellies to crude oil," Howell said. "There's never been a futures contract for recycling so if you're a manufacturer you're always paying whatever the price is that day or using raw materials."
Howell, who is also co-director and affiliate professor of the Rowan Center for Responsible Leadership in the RCB, said futures markets have not existed previously because the quality of recycled goods could not be guaranteed and, subsequently, the majority of recyclables from the U.S. were sold overseas, primarily to China. If a futures market was created for recyclables, post-consumer goods would be forced to meet stringent quality standards but, in meeting them, the material would become attractive for use by domestic manufacturers.
The study, "Enhancing Markets for Post-Consumer Materials through Development of Exchange-Traded Derivatives: Connecting New Jersey Recycling Programs to the Broader Market," recently was awarded a $120,000 grant through the N.J. Dept. of Environmental Protection's Recycling Enhancement Act program.
"The project examines the potential for derivatives (futures contracts) to revolutionize how recycled materials are bought and sold, while also laying the groundwork for establishing a new series of financial products to be traded in a real-world exchange," Howell said. "I'm not prone to hype, but this original research pushes the boundaries of what is possible for waste management systems in the U.S. and, potentially, around the world."
From an economic perspective, as well as an ecological one, a futures market for recyclables makes great sense, Moore said.
"Futures contracts improve financial markets by providing longer-term price certainty for both buyers and sellers," said Moore, an assistant professor of in the Department of Accounting and Finance. "In the case of recyclables, businesses must decide whether to purchase new materials or recycled materials. If businesses can lock in a price to purchase recycled materials in the future, they are more likely to do so. This is better for everyone: businesses, consumers, the economy and the environment."
Said Folkinshteyn, an associate professor in the Department of Accounting and Finance, "robust futures markets for other commodities play an important role in smoothing out price variability for market participants… Our hope is that a more developed futures market for post-consumer materials will translate into better market quality overall."