$1.6 million NIH-funded study focuses on gut-brain clues to disease cures
$1.6 million NIH-funded study focuses on gut-brain clues to disease cures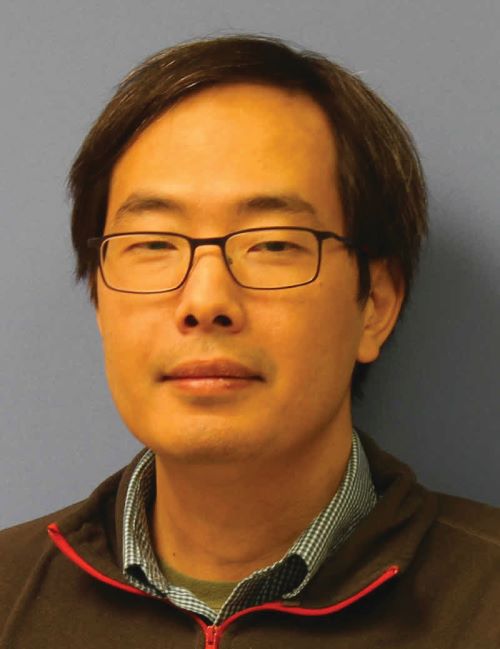 Dr. Howard Chang researches gut-brain disease connection
A National Institutes of Health grant secured this month by Rowan University School of Osteopathic Medicine researcher Dr. Howard Chang could help unlock some of the biggest mysteries facing modern science – including the connection between healthy gut flora and diseases like ALS.
Chang, who came to Rowan from the State University of New York – Binghamton in December, said ALS, more commonly known as Lou Gehrig's Disease, is a progressive neurodegenerative condition in which patients lose muscle control and are ultimately rendered unable to move, eat, even breath on their own.
The NIH funding, $1.6 million over five years, enables Chang's study, "The role of superoxide dismutase SOD-1 in microbe-gut-brain interaction," to examine the role of an intestinal gene that can mutate and affect the normally healthy relationship between the human gut and the neural system. That mutation that can lead to the development of diseases like ALS, Parkinson's and Alzheimer's, for which there are no cures.
With a personal connection to ALS – his uncle died of the disease and he believes others in his family may carry the unexpressed mutated gene – Chang hopes that a cure to it and similar diseases may one day develop, at least in part, through his research.
"A healthy gut microbiome helps maintain immunity but in addition to the immune system a healthy microflora improves your psychological status, helps influence aging and can influence the development of dementia and neurodegeneration," Chang said. "We're trying to figure out how a microbe in the gut influences the physiology in the brain."
He said though the gene, superoxide dismutase SOD-1, was discovered in the 1990s, his research into the connection between gut microbiome and brain diseases could be transformative.
"We hope to identify new layers, different genes and proteins, that will hopefully lead to some kind of therapeutic target to improve the condition of ALS," he said.
Chang said the mutated gene is present in a small segment of the general population but the number of people affected by ALS is determined not by the presence of that mutation, which may be tested for, but through a clinical evaluation of symptoms.
"It is estimated that at least 16,000 Americans may be living with ALS at any given time," he said. "Familial ALS, a hereditary form of the disease caused by SOD-1 and other mutations, accounts for ten percent of cases, whereas the remaining sporadic cases have no clearly defined etiology."