Seeking face masks, medical school asks Rowan engineers for help
Seeking face masks, medical school asks Rowan engineers for help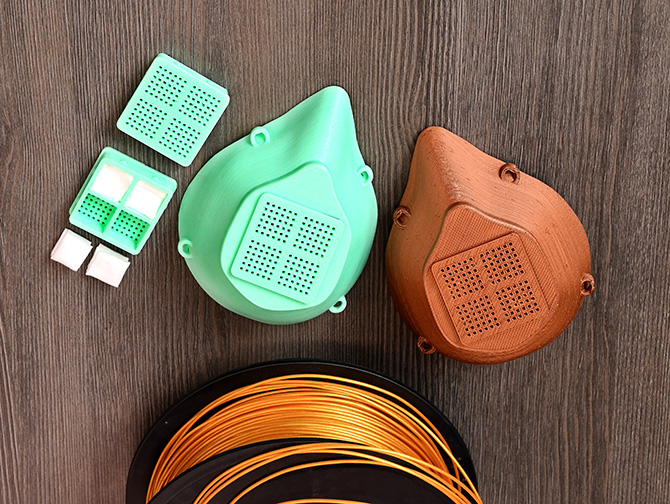 Rowan University is working with area hospitals to test 3D-printed face masks.
A team of Rowan University faculty and students is racing against a pandemic to create 3D-printed face masks to address a predicted shortage of personal protective equipment for South Jersey's health care workers and emergency responders. 
The designs are now available for public use at rowan.edu/mask
The work began early Sunday morning with an email from Ben Saracco, a research and digital services librarian for Cooper Medical School of Rowan University, requesting help from Dr. Shreekanth Mandayam, a professor in Rowan's Department of Electrical & Computer Engineering, and George Lecakes, a Ph.D. engineering student and director of Rowan's Virtual Reality Center. 
Coincidentally, Dave Johnson, vice president of innovation at Inspira Health, approached Jeanne Nevelos, executive director of South Jersey Technology Park at Rowan University, with the same request for assistance. 
Intrigued by the idea, Lecakes set to work with a 3D printer. Using models of face masks available online, he printed a prototype, a flat piece of plastic meant to bend around the user's face. He could immediately see its shortcomings. It didn't seal well, he couldn't talk while wearing it, and the material wasn't in abundant supply.  
The team settled on a different design shared online by Billings Clinic Foundation in Montana, then modified it to suit their needs: a cup-shaped mask printed from spools of commonly available plastic, fitted with a removable filter. 
See photos.
While it's not the N95 mask recommended by the Centers for Disease Control and Prevention, the 3D-printed mask can be washed, disinfected and reused multiple times, a feature desperately needed while disposable masks are in short supply. The team is also experimenting with various materials, such as copper thread.
"It's been a whirlwind working with medical students and engineers to get this just right," said Lecakes. By Wednesday, the first models were ready for testing in the field. Using printers from across the University, and working with community partners, the team expects to produce up to 100 masks per day. 
It's still too early to know whether 3D masks will be practical on the front lines of the pandemic battle, but the plastic masks might offer more protection than a bandanna or a paper surgical mask, as now suggested for use by the CDC if N95 masks are unavailable.
"Using 3D modeling, we can test different prototypes quickly," Mandayam said. "Our goal was to do what we could very quickly and pass these along to our physicians so they could test them for contingency use in the event of a shortage." 
"Later this week, health care providers at Cooper University Health Care and Inspira Health will test the prototypes at their hospitals and give us feedback, so we can refine the product," Mandayam added. 
"This collaborative effort to locally design, test and manufacture PPE demonstrates the tremendous benefit of partnering with innovative organizations," said John DiAngelo, president and CEO of Inspira Health. "Although we currently have an adequate supply of masks to meet critical needs, we must be prepared for a surge of patients over the next few weeks." 
The effort has involved faculty from colleges and campuses across the University, including the College of Science & Mathematics, Rohrer College of Business, and Edelman College of Communication & Creative Arts, Mandayam said. 
During a teleconference Wednesday morning, medical students offered suggestions for the engineers to make the masks more comfortable: printing masks in three sizes and adding cushioning at the edges. The team is already thinking about ways to attach a separate face shield.   
Personal protective equipment like gloves, gowns and face masks are always needed in the health care setting, both to protect the provider and the patient, explained Dr. Annette Reboli, dean of Cooper Medical School of Rowan University. 
Even so, COVID-19 has presented "new, uncharted territory for all of us," Reboli said. 
"This pandemic is putting stress on the availability of personal protective equipment nationally and worldwide," said Reboli. "I am so proud that Rowan's colleges and our CMSRU medical students are working together in an innovative way to help alleviate this anticipated shortage."  
"This is a perfect example of human ingenuity to save lives, at a time of crisis," said Anthony Mazzarelli, MD, JD, MBE, CEO and co-president of Cooper University Health Care. "This is medical training at its best and we look forward to testing the masks."