New Jersey Health Foundation grants advance research
New Jersey Health Foundation grants advance research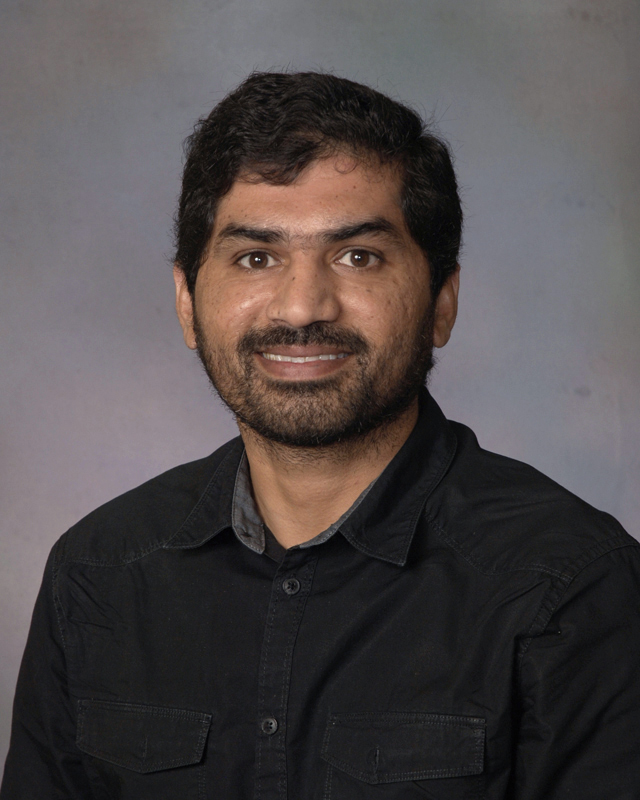 Ghulam Rasool, Rowan University assistant professor of Electrical and Computer Engineering
Ghulam Rasool envisions an improved bionic arm and hand that is more functional and affordable than those already on the market.
Now, Rasool's evolving research is getting a boost.
Rasool, an assistant professor of Electrical and Computer Engineering, is one of seven Rowan faculty members who recently received funding from the New Jersey Health Foundation for health-related research. Nearly 23 percent of the foundation's latest grants were awarded to Rowan faculty.
The Princeton-based nonprofit supports faculty and student researchers at New Jersey-based organizations with financial resources. The grants help researchers move their projects out of the lab and into the real world, said Beena Sukumaran, vice president for research at Rowan.
"They're taking their research and applying it to real life," she said.
Rasool's project would create a prosthetic limb that combines neuroscience with practicality.
"The user would be able to control the wrist joint and finger of the hand by just thinking about what they're trying to do," Rasool said. "The idea is that when someone gets an amputation, the limb may be lost. However, the neurons that connect the brain to the limb may still be there.
"What we can do is tap into those neurons and get access to the electrical signals coming from the brain to muscles. We can use these electrical signals and learn about the movement the person was trying to perform or was just thinking about."
This is the second consecutive year Rasool has received a $35,000 grant from the foundation for his research.
In the first year of Rasool's project, known as EnaBLe (for enhanced bionic limb), he and his student researchers built prototypes of the bionic arm. This year, they hope to discover how the bionic arm can mimic human movements in the non-amputee population. In 2021, Rasool and the students will begin working with forearm amputees to test the device.
Grant funding is vital, Rasool said. 
"Working with students, their stipends, equipment and lab space, all of these things require continued financial support," Rasool said.
"Without these grants, awards and financial support for research," Rasool added, "we wouldn't be able to make progress."
In addition to Rasool, the following faculty received grants from the foundation:
Arnab Ghosh, Cell Biology and Neuroscience, for research into the relationship between anti-cancer drugs and heart-muscle damage;
Subash Jonnalagadda, Chemistry and Biochemistry, for research into molecule therapy for the treatment of triple-negative breast cancer;
Claude Krummenacher, Biological Sciences, for research into adhesion molecules' involvement in innate immunity to cancer;
Iman Noshadi, Chemical Engineering, for research into oxygen-generating bioelectronic devices for large-size tissue regeneration;
Ben Wu, Electrical and Computer Engineering, for research into endoscopy image processing;
Kingsley Yin, Cell Biology and Neuroscience, for research into the beneficial action of probiotics in wound infection.