Rowan professor leads statewide effort to mobilize school counselors in wake of COVID-19
Rowan professor leads statewide effort to mobilize school counselors in wake of COVID-19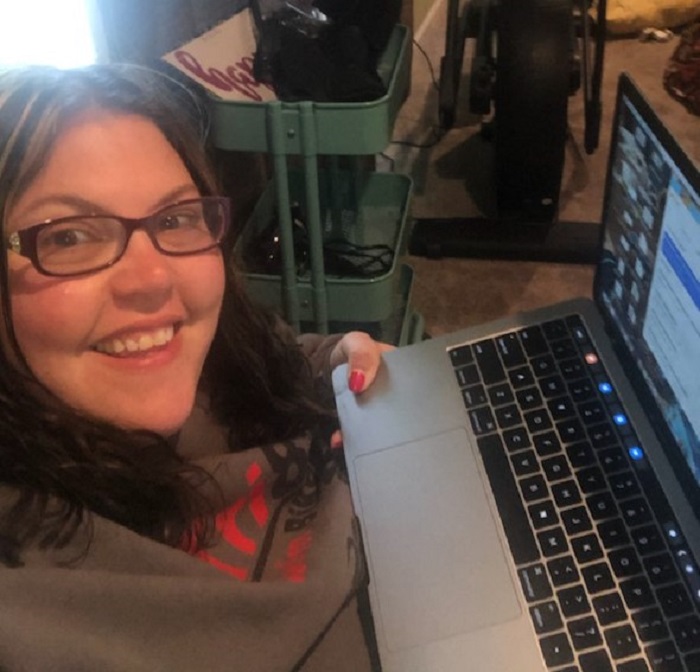 In an effort to provide support services to school counselors--and, ultimately, school communities--Education Professor Kara Ieva established a new online collaborative to virtually assist the state's school counselors during the COVID-19 pandemic. She's leading the effort from home.
Rowan University Education Professor Kara Ieva is working to unify the state's school counselors—and provide precious resources, guidance and support to them as they serve their students—during COVID-19.
This week, Ieva, associate professor of counseling in educational settings in Rowan's College of Education, created the New Jersey School and SAC (Student Assistance Coordinator) Counselors Online Collaborative, a group of nearly 350 counselors from among 584 school districts in New Jersey.
Through social media webinars and networking, Ieva is teaming up with Jennifer Grimaldi, director of district school counseling at Washington Township Public Schools, to mobilize school counselors, who are on the front lines of serving and counseling students. All of the state's schools have closed and have moved to virtual teaching. Yet, the role of the school counselor remains…and has never been more critical, Ieva notes.
'A defining moment'
"This is a defining moment for the school counseling profession. School counselors are in a unique position to be on the front lines of social-emotional and academic support for all students," said Ieva, who, with Grimaldi, a Rowan alumna and adjunct professor, led the first webinar via Facebook on Wednesday, March 25. School counselors from New Jersey and other states joined the session.
Topics included everything from conducting needs assessments for students and families requiring access to food, technology and other services to tips for creating community among students to adjusting to technology to preserving privacy and confidentiality while counseling from home.
That's just the beginning, said Ieva. Future separate sessions are planned for school counselors at individual levels, as well as the elementary/early childhood, middle school and high school levels. Additionally, the group will hold Wellness Weekly meetings for support and consultation for school counselors.
Vulnerable populations, inconceivable stress
Ieva stressed to counselors that students who have experienced childhood trauma and special needs, homeless, undocumented and LGBTQ+ students are among the most vulnerable populations during this time of inconceivable stress. That goes for parents as well, she noted.
"It's a grief and loss period for everyone right now," Ieva told the counselors. "We are collectively feeling overwhelmed, stressed, and overloaded with technology. These are uncertain times, with multiple stressors impacting adults and students alike.
 "For our neurodiverse and special needs kids, this dramatic change presents unprecedented challenges," she said as she continued to address the counselors. "But your role will be the same, with modifications of delivery and priority. You really are the foundation for students. And your own self-care is critical."
"Students still want to feel that they are part of the school community," Grimaldi said. "Students are so thirsty at this point. They really want your attention. And parents do as well."
#NJSchoolCounselorStrong
Rachel Sole, who earned her master's degree in school counseling from Rowan in 2012, is a school counselor at St Margaret Regional School in Woodbury Heights. The online collaborative is extraordinarily valuable as she works to serve her school community, she said.
"The foundation of school counseling is built upon advocating for our students and our profession," Sole said. "One of the primary ways we are able to achieve that goal is through working with other counselors and community stakeholders. The collaboration from other professionals in the field is invaluable.
"By sharing ideas, as well as policies and procedures related to counseling, the group is helping me be more effective in reaching my students and their families remotely."
#NJSchoolCounselorStrong is the hashtag for the collaborative. That's by design, Ieva said.
"How we respond to this pandemic in our role as school counselors will have longstanding effects on the well-being of our students and the communities we serve," she said. "Collectively, we are working to ensure educational equity and, most importantly, emotional wellness."