Politz, Mason win BEA "Best of Festival"; students also honored for media, journalism
Politz, Mason win BEA "Best of Festival"; students also honored for media, journalism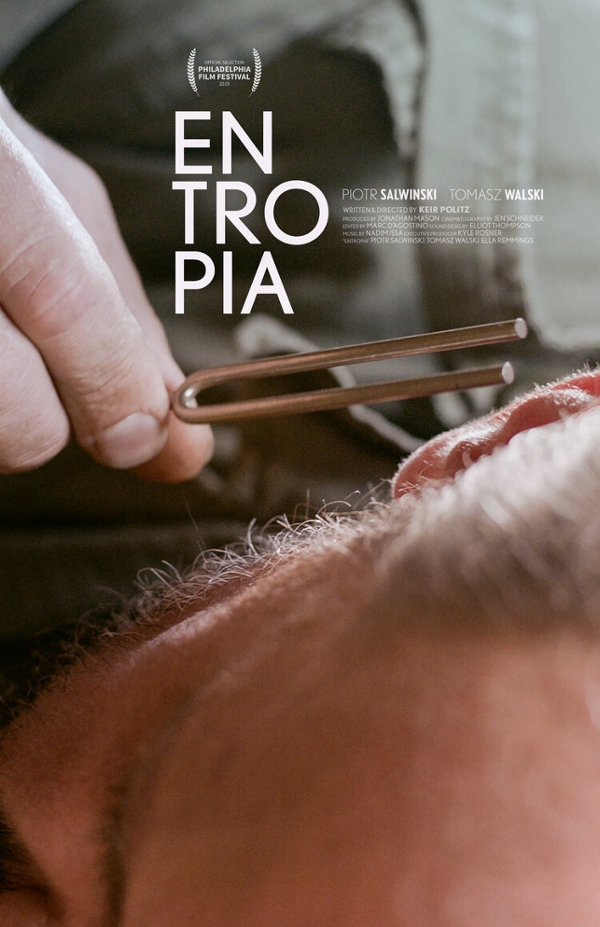 Official movie poster for Entropia
Students and faculty in the Ric Edelman College of Communication & Creative Arts this month won acclaim in the prestigious annual Broadcast Education Association's Festival of Media Arts Awards competition and for high quality reportage.
Among the BEA winners, writer/director Keir Politz and producer Jonathan Mason, assistant professor and associate professor in the Department of Radio, Television & Film, won the Best of Festival Faculty Film Award for Entropia, a narrative shot partly off campus in Glassboro and at the Edelman Fossil Park in Mantua Township. The film follows the trials of a Polish piano tuner in search of truth and beauty.
Politz also won an Award of Excellence for his television screenplay for Country of the Blind.
One of the most prestigious faculty and student media competitions in the country, the festival, part of the Broadcast Education Association Conference, will recognize winners during an April awards program in Las Vegas.
Rowan RTF students honored in this year's competition include:
Benjamin Lombardo, Elijah Brown and Amie Curry for Trials and Tribulations (Educational Program – Audio – 2nd Place);
Justin Brown and Jon Baker for Making a Musician (Podcast – Award of Excellence);
Karlee Dian Rogers for How Muscles Work (Instructional/Educational Film and Video -  2nd Place);
Alec Nathan, Eric Posey and Alyson Vogelsang for the film Apollo: 50 Years of Innovation (Emerging Media/Technology - 1st Place).
Rylee Meyer and Katie Francis for The Rowan Report: 12/1/19 (Radio Newscast – 2nd Place)
Joe Stauffenberg and Sean Remington for Concussion Protocol (Radio Sports Story – 1st Place)
Separately, Rowan's student newspaper, The Whit, received the 2020 Outstanding Campus Media award from NJ News Commons for their coverage of student deaths last semester.
Edelman CCCA Dean Sanford Tweedie said the recent accolades befit programs that, for decades, have produced communicators of the highest caliber.
"I'm very proud," Tweedie said. "Our students and faculty love what they do, they work hard at it, and the results speak for themselves. But it's also nice to be recognized."