Campbell Library turns 25 with "Friends"
Campbell Library turns 25 with "Friends"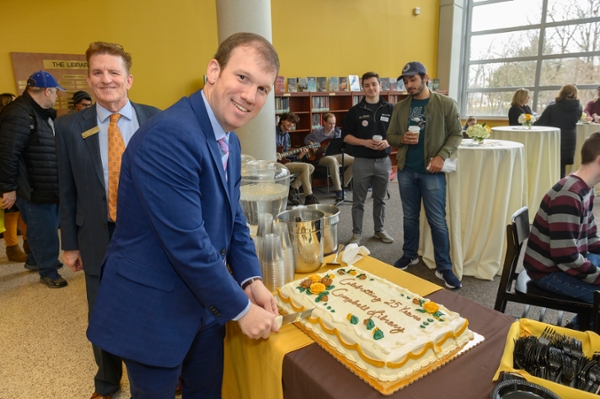 Johnny Campbell cuts cake as Associate Provost Scott P. Muir looks on.
Faculty, friends, administrators and staff celebrated the 25th anniversary of Rowan's Keith and Shirley Campbell Library Feb. 5 with a party that harkened back to 1995, the year the facility opened.
Adding to the theme were a selfie posing station with a backdrop from "Friends," the nineties TV megahit, "Friends"-inspired t-shirt give-a-ways and live musical performances of 1990s pop tunes.
Built through a bond referendum in 1995, the 118,000 square-foot library replaced Savitz Library, which today houses Student Affairs, the Division of Diversity, Equity & Inclusion, Admissions, and other offices.
In November 2000, Keith and Shirley Campbell donated $1.5 million to establish an endowment for the Rowan University Library and, in recognition of their generosity, the Board of Trustees renamed the facility in their honor.
Addressing attendees of the 25th anniversary celebration, Rowan President Ali Houshmand said since 2000 the library has become ever more student-focused, growing and adapting with online, digital resources while maintaining a traditional setting for lectures, study sessions and pleasure reading.
"Thank you, Keith and Shirley Campbell," Houshmand said. "We are who we are in great measure because of people like them."
Keith Campbell is a former Rowan University Board of Trustees member who today serves as chairman of Mannington Mills, a family-owned, Salem-based, flooring company founded in 1915.
While the Campbells did not attend the ceremony, their son, Rowan alumnus Johnny Campbell '08, MBA '15, said his parents were inspired by University benefactor Henry Rowan, whose $100 million gift forever changed then-Glassboro State College and the region.
"They believed that every great university should have a great library," Campbell said. "As a member of the board, my father saw what an incredible transformation Mr. Rowan's gift made."
Rowan Associate Provost Scott P. Muir, who leads Rowan University Libraries (Campbell, CMSRU Library and RowanSOM Health Sciences Library), said largely because of the Campbell endowment students have access to many newly renovated spaces. The three libraries together spend nearly $5 million annually to offer a vast amount of information including hundreds of databases, thousands of peer-reviewed electronic journals and a wide collection of print materials. 
"One of the things we're doing now with the Campbell endowment is updating the digital scholarship center with new equipment to enable the creation of research including media, photographs and other materials that are not in print," Muir said. "As part of the DSC, library staff continue to document the University, from public art installations to materials related to the 1967 Hollybush Summit."
Rowan Digital Works, the institutional repository of faculty and student scholarly work, has had more than 1.2 million downloads by researchers around the world.
Meredith Baubles, a sophomore engineering student from Woolwich Township, said aside from its resources, Campbell Library serves as a meeting and study space for herself and her friends.
"Sometimes I'm here five days a week," she said.