Chess champion: Physics major captures first place title in prestigious tournament
Chess champion: Physics major captures first place title in prestigious tournament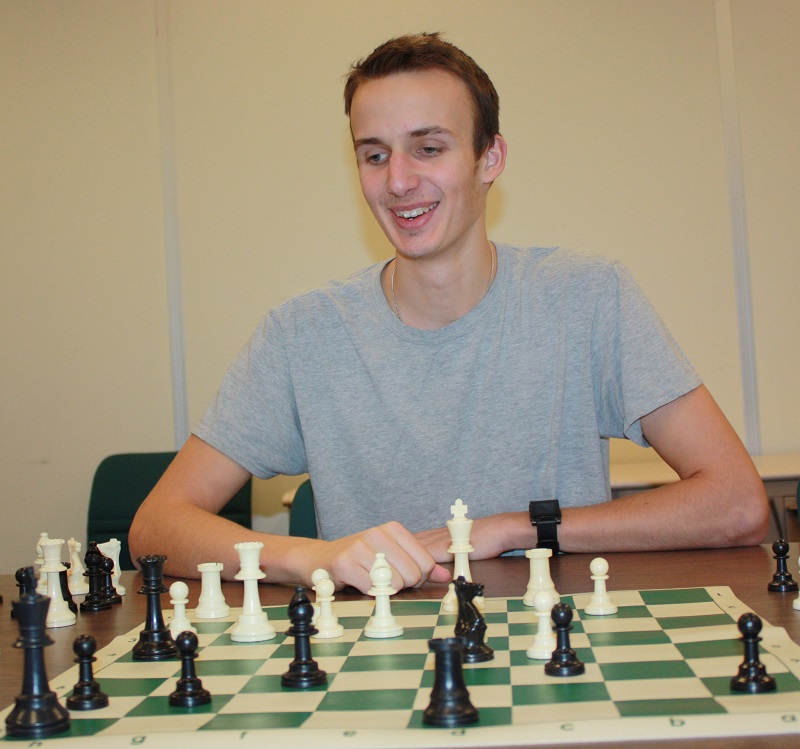 Treasurer of Rowan's Chess Club, Kyril Kavetsky took top honors in the Philadelphia National Chess Congress.
Kyril Kavetsky, '21, a physics major, craves a challenge.
But when he headed into the three-day Philadelphia National Chess Congress to compete against 62 other players in the Under 1800 Section in November, he thought he might find one that was bigger than he had bargained for.
"I fell into a slump and thought there was no way I would do well against players in this section, especially since this is a very serious tournament," said the Toms River resident, who is treasurer of Rowan's Chess Club. He explained that the 10 sections are based on players' ratings and his rating fell into a lower category after he registered.
Adding to the pressure, he set off for the tournament during a busy semester, where he had little time to train for his matches.
At the end of his first match, he sacrificed a rook, one of the strongest pieces, to gain an attack and checkmate his opponent.
"When that ended up working, I felt like I was back," he said.
During the last of his four matches, he continued to gather steam as his opponent made several consecutive mistakes, but then he started to make errors and began to lose.
"I was ready to give up. But I decided, if there's any time to try, this is it. So I persisted," he said.
As the minutes ticked down during the timed match and control shifted, his opponent eventually offered him a draw. However, Kavetsky declined.
"It was about seeing how far I could push myself in this tournament, so I pushed for a win," he said.
Finally, using a complex tactic where his rook ultimately captured the bishop, he gained the advantage and won the game — and section championship.
"Just minutes before, I had accepted defeat," he said. "Suddenly winning the first place title out of nowhere was very overwhelming."
Kavetsky enjoys the focus involved in chess. "You have to solve problems while at the same time creating problems for your opponent," he said. "That dynamic problem-solving process is what makes the game very interesting and exciting."
Chess also offers him a chance to flex his brain cells outside of class.
"Being wrapped up in my studies is great, but being able to use my brain to have fun and make friends is very important as well," said Kavetsky, a student in the Thomas N. Bantivoglio Honors Concentration in the Honors College. He eventually would like to pursue a doctorate.
The skills he has learned also have permeated other areas of his life.
"Growing up playing chess helped me to make careful decisions about everything," he said. "It also helped me solve problems and it is a great way to meet people."
But the game is not without complications.
"The most challenging part of playing competitive chess is being in your own head because you sit at a chessboard for several hours. You're exhausting yourself. Sometimes all that comes out of it is a loss that can be very devastating if you let it," he explained.
However, there are ways to emerge from that.
"It's a matter of compartmentalization," Kavetsky said. "It's a psychologically-ingrained game, so you have to put that into perspective if you're going to play competitively."
Although he is proud of the determination he summoned during the tournament, he stresses his club's contribution to his accomplishment.
"I was able to go to this tournament because of the Chess Club funding my entry," he said. "It's part of our budget, and that's part of the reason we receive funding from the Student Government Association. So I really owe this all to them."