Hasse receives N.J. conservation award for vast online mapping project
Hasse receives N.J. conservation award for vast online mapping project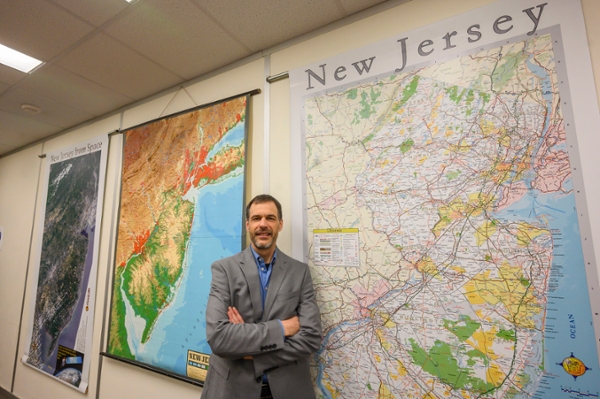 Rowan University Professor of Geography John Hasse and a team of researchers have compiled a massive trove of New Jersey land use data and moved it all online for easy access, a project that will benefit students, journalists, municipal officials, developers and residents for decades to come.
Dubbed, appropriately, NJ MAP, the project spawned numerous research offshoots including the New Jersey Conservation Blueprint to help guide development in the state and to preserve valuable and often sensitive parcels for future generations.
In December, Hasse and the team that compiled that work, including his partners at the Nature Conservancy and the N.J. Conservation Foundation, were among the recipients of the 2019 Governor's Environmental Excellence Awards.
"The New Jersey Conservation Blueprint is one of about a dozen projects that run out of the platform, NJ MAP," Hasse said. "While the Blueprint is about conservation and preserving lands from overdevelopment, other projects include animations of environmental change, property parcel information and tracking the waste stream in New Jersey but they're all powered by NJ MAP."
Hasse described NJ MAP (which is available at NJMAP2.com) as an interactive atlas, a 21st Century resource that makes finding detailed ecological and environmental information easy, and puts it literally in the palm of one's hand, be it from a laptop, a desktop computer or a smartphone.
"Mapping is something humans did long before we were even writing," he said. "Prehistoric humans first created maps on cave walls. Humans evolved to think graphically about what's around them in the environment and, for many centuries, it was done on paper maps. Now we can make those graphical representations on a computer screen where we can do much more like dynamically zoom in and out, generate animations and create vast databases within them. With NJ MAP, we have many dozens of digital layers that help us understand and interpret the environment."
The Conservation Blueprint – a collaboration between Rowan researchers and students, the Nature Conservancy, the New Jersey Conservation Foundation and 22 other partner organizations – received the state award in the Land Conservation Category, one of nine groups or individuals recognized during the program Dec. 9 at the New Jersey State Museum in Trenton. The Blueprint also earned an Environmental Achievement Award from the N.J. Association of Environmental Commissioners, which advises environmental commissions in all 21 counties.
Hasse said the NJ MAP program and side projects such as the Conservation Blueprint not only help illustrate the state in an unprecedented way but are helping to save resources, financial as well as physical.
"There's a limited amount of money to protect open space," he said. "Some parcels are more vulnerable and those would be the most logical to preserve."
He noted that, from a business perspective, information that is readily available, without having to pay a third party to develop it, helps ensure smarter, more economically feasible planning.
"These resources help developers be more responsible and it helps them save money by mapping where they shouldn't go," Hasse said. "Plus, for example, we can show parcels that already have sewer or that are near highway infrastructure, and that type of information can help steer developers to smarter places."
Significantly, Hasse said, data collected to produce NJ MAP and related projects show that development of environmentally sensitive areas has been recently declining in the state and that there's been an uptick in farmland preservation, both of which can help offset the rising impact of climate change.
"The question is, how much can we mitigate how climate change will affect life in New Jersey?" he said. "That remains unknown."