Rowan Center for Innovation and Entrepreneurship fosters tomorrow's business leaders today
Rowan Center for Innovation and Entrepreneurship fosters tomorrow's business leaders today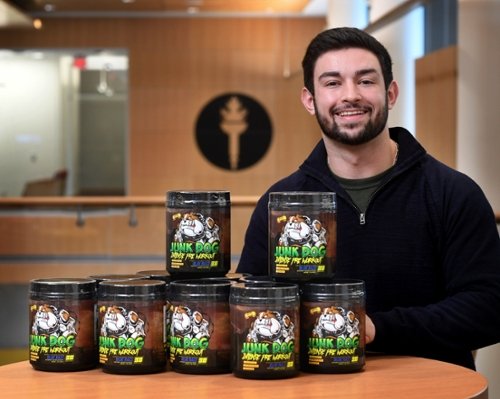 MBA student Paul Randazzo produces Junk Dog Pre-Workout, a supplement designed to fuel highly motivated exercise sessions.
Rowan University entrepreneurs are everywhere, from corporate boardrooms to neighborhood storefronts; from start-up tech firms to social ventures.
Supporting would-be entrepreneurs, from those who dream of being their own boss to those who hope to change the world, the Rowan Center for Innovation and Entrepreneurship provides expert guidance in developing a start-up, seed money to get it going and a vast network of mentors to nurture its development. Located within the Rohrer College of Business, the center is also supported by the College of Science & Mathematics, the Henry M. Rowan College of Engineering and the Provost's Office.
Led by Professor Eric Liguori, the RCIE promotes entrepreneurship throughout the University, hosting more than 100 workshops, speaker events and other opportunities throughout the year for students to learn from industry leaders, corporate executives and business proprietors. One such program, an RCIE Spotlight Speaker Series event this fall, featured Jersey Mikes Subs President Hoyt Jones.
"Aspiring business leaders, regardless of who they are or what they hope to achieve, absorb and are inspired by the successes of others, so a big part of our program is connecting aspiring student entrepreneurs with appropriate mentorship and resources," Liguori said.
Liguori, who holds a doctorate in entrepreneurship, is president of the U.S. Association for Small Business and Entrepreneurship and is associate editor of the Journal of Small Business Management, said a hallmark of the RCIE are three signature programs held throughout the year to foster student business projects.
Idea Challenge/New Venture Competition/Summer Accelerator
During the fall semester, the RCIE partners with the Rowan Innovation Venture Fund on the Rowan Idea Challenge competition, drawing individual students and student teams from around the University who pitch new venture ideas for a chance to win thousands of dollars in support funding, legal assistance and startup accounting support.
For 2019-20, the Dec. 6 Idea Challenge drew more than 40 student teams from such disparate studies as nutrition, mechanical engineering, finance, biochemistry, radio/television/film, and creative writing.
"As with any successful business, it starts with the idea stage," Liguori said. "Then, as we move throughout the year, the teams are narrowed down so there are fewer but they're more advanced."
The Rohrer New Venture Competition each spring also makes thousands of dollars in funding available, but aims to help students advance beyond the idea stage to more fully specified and validated business models. The Summer Accelerator, which helps push projects to fruition, awarded more than $25,000 in seed funding in summer alone. Over the past year more than $40,000 was invested in non-equity financing to student startups.
"The Summer Accelerator is for ideas that are further along and ready to grow or scale," Liguori said. "In fact, this past summer we had a few that were revenue-generating and going into growth mode at the start of the program."
Among successful student projects supported by the RCIE, College of Business students Mike Lombardo and Kayvon Jahanbakhsh created a line of organic cold-brewed beverages called Topos Teas that are now for sale in several South Jersey and Pennsylvania Whole Foods Markets.
Recent graduate Jacques Engelbrecht, who was born in South Africa but grew up in the U.S., saw a market opening in the popular beef jerky business and developed a line of ready-to-eat meat products called Jacques Snacks.
"The idea was for a South African-style jerky called biltong," Liguori said. "He was making it as a hobby at home with his dad but there was nothing on the market like his and he saw an opening."
A start-up headed by biological sciences major Paul Randazzo '19, now a graduate student in RCB's Master of Business Administration program, produces Junk Dog Pre-Workout, a supplement designed to fuel highly motivated exercise sessions.
Studio 231
One component of the RCIE is Studio 231, a maker space and learning laboratory on the second floor of Business Hall, where a great array of resources help aspiring businesspeople pound out, print out or simply workout viable plans. The workshop includes a variety of equipment including a 3D printing station; branding, advertising and sign-making machinery; a photo/video suite; and assorted hand tools.
Meeting outside Studio 231, Randazzo said his powdered energy supplement, which is available in Red Sour Candy and Blue Raspberry flavors, includes citrulline malate for increased blood flow, beta-alanine for endurance, creatine hydrochloride for recovery and caffeine for energy.
Acknowledging that competition in the supplement industry is fierce, Randazzo said he's working hard for success with the product but believes it will benefit him no matter how sales ultimately go.
"I see it as a building block," Randazzo said. "I hope it grows into something big but as much as I love working out and supplements, I love the business side more. I'm a business fanatic."
Dr. Mike Dominik, a professor in the Entrepreneurship program, said Randazzo's attitude is exactly the kind that breeds success.
"Paul is utterly fearless," he said. "He's not afraid of rejection. He has the sales and marketing mentality that an entrepreneur needs when introducing a new consumer product."
Winners of this fall's Idea Challenge included:
First place, $4,000 winner: Tangible 3D Solutions, which would provide a service offering 3D printed ultrasound models to parents and families who want to enhance their pregnancy through the power of touch. The team includes Benjamin Taylor, mechanical engineering, and Nicole Testa, nutrition and dance.
Second Place, $2,000 winner: ChronoCare, which would provide a technology platform for hospitals to improve their compliance with federally mandated treatment standards. The team includes Liam Cutri-French, civil and environmental engineering; Augustino Scozo, biomedical engineering; Christopher Contos, finance; Matthew Cangemi, electrical and computer engineering; and Issam Mardini, finance.
Third place, $1,000 winner, SafeQuest, would revolutionize campus safety through an application that would assist students whether they need the police, their friends, are on foot or need an Uber. The team includes mechanical engineering majors Chris Carras, Stephen Kovarik and Mark Hausman, and Nicole Cier, a creative writing major.