Treating autism, severe behavior and addiction
Treating autism, severe behavior and addiction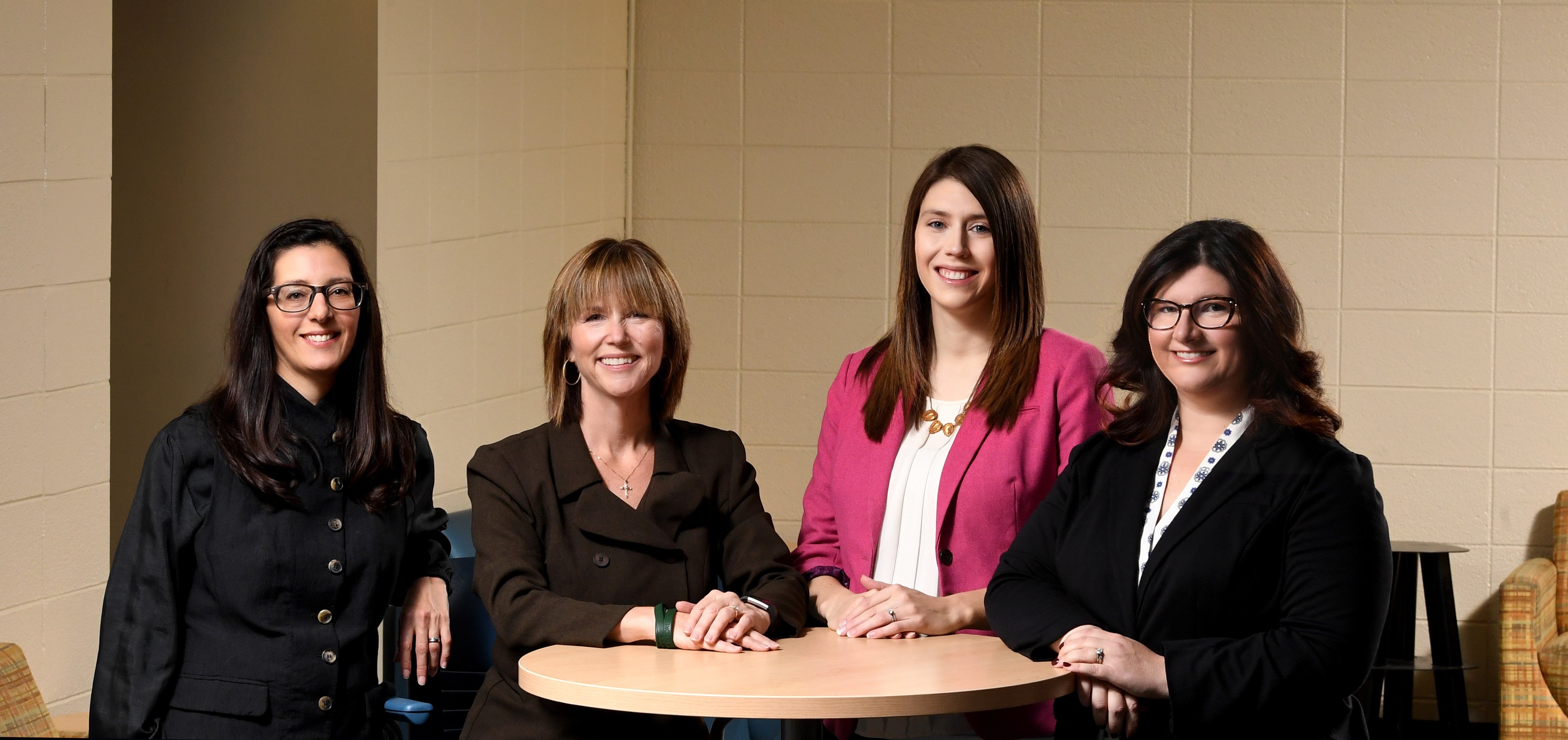 Working together in the Center for Behavior Analysis are (from left) Dr. Bethany Raiff, Dr. Mary Lou Kerwin, Dr. Christina Simmons and Dr. Michelle Soreth.
In Rowan University's Center for Behavior Analysis, professors who are Board Certified Behavior Analysts (BCBA-D) and their students take on difficult problems of human concern across diverse populations, needs, and settings.
Each week, they spend hours striving to teach a nonverbal child as young as two to communicate. In specially equipped rooms, therapists don protective equipment to work with children whose severe behavior extends to harming themselves or others. They find ways to help users finally quit smoking for good.
In the center, the lines between education, research and service often blur, in all the best ways. Rowan students provide services to community members as part of the training and research that will inform the future of behavior analysis.
 Understanding behavior analysis
"Most people don't really know what behavior analysis is," said Dr. Mary Lou Kerwin, professor of psychology and executive director of the Center for Behavior Analysis, located in Robinson Hall. "Behavior analysis is the use of scientific principles to explain and change behavior."
Unfortunately, the use of behavioral principles is so ubiquitous that people often assume they understand how to use these strategies effectively. But behavior analysis is actually complex.
"If you understand how an individual behaves, you can predict future behavior," Kerwin explained. "That provides potential for social change in society in general, and we can improve quality of life at the individual levels."
"Humans are complicated," said Dr. Bethany Raiff, associate professor and director of the Health and Behavioral Integrated Treatments (HABIT) Research Unit, "and one of the most complicated things is trying to figure out why people do what they do."
Building a better quality of life for children with autism
Much of the work done in the Center for Behavior Analysis involves treating children with autism spectrum disorder (ASD).
"The center provides affordable treatment and education to the parents of children with autism," said Jacqueline Logan, BCBA and research coordinator at the center. Besides benefitting from the variety of different assessments and individualized treatments offered through the center, the children and their families are participating in research that will help advance the field as a whole.
"What we know from over 25 years of research is that the earlier the intervention is provided, the better the outcome for the child," Kerwin explained. That intervention is often intensive, taking so many hours each week that it's not always feasible to use more than one type of intervention. That's why it's crucial that the intervention used is the most effective option possible.
"A lot of interventions have no empirical support but sound good to parents who are desperate to help their child," Kerwin said. "Interventions based on behavior analysis, however, do have empirical support. One remaining question with these interventions is which behavior analytic interventions work best for whom and when."
Children with autism spectrum disorder all have different needs and different deficits. Although the myth that autism manifests in the same way in every child was debunked years ago, treatment has continued to be one-size-fits-all, Kerwin explained. 
"If we're engaging in hours and hours of something that's not effective, we're missing the opportunity to do something that is effective, potentially limiting a child's ability to improve over time," Kerwin said.
Autism intervention approaches go head-to-head in grant-funded SMART study
Evaluating the efficacy of different interventions is the focus of the SMART (Sequencing for Maximizing Acquisition and Response to Treatment) study Dr. Michelle Soreth, associate professor of psychology, is leading with co-investigator Kerwin. The goal is to maximize that ability to improve communication skills over time for children participating in the study as well as ultimately for other children with ASD.
Soreth and Kerwin initially tested applied behavior analysis (ABA) interventions against a non-ABA form of intervention called Relationship Development Intervention (RDI). This research was conducted under the first of two grants awarded by the New Jersey Governor's Council for Medical Research and Treatment of Autism and the New Jersey Department of Health. The outcomes of their interventions showed that parent-implemented ABA was a particularly powerful tool in the treatment of autism.
What this first study did not do was establish which types of treatments within the field of ABA were the most effective. That's the goal of Soreth and Kerwin's current research, funded by a second grant from the Department of Health, which pits the original model of ABA-based early intervention for autism, Discrete Trial Instruction (DTI), against a newer ABA-based intervention model known as the Verbal Behavior Approach (VBA).
Although researchers are just finishing data analysis, preliminary findings indicate that children in the VBA group learned new skills at twice the rate of children in the DTI intervention group.
"Given that one of the best indicators of overall prognosis for children diagnosed with autism is whether the child is speaking in phrases before age five, it's almost as though we are working against the clock," explained Soreth, who focuses primarily on the significance of intervention with children as young as two years of age.
"If we are able to identify interventions that double the rate of progress during such a critical learning period, imagine the possibilities for improving the overall prognosis and quality of life for individuals diagnosed with autism," Soreth added.
Addressing severe behavior SAFE-ly
Dr. Christina Simmons, assistant professor of psychology, specializes in treating "populations others might shy away from because of their severity." In her Social Acceptability and Functional Evaluation of Behavior (SAFE Behavior) Lab and Severe Behavior Clinic, she works with school-aged children from three to 18 who exhibit severe behavior, such as aggression, property destruction, and self-injurious behavior. Many of these children present with autism and other developmental disabilities.  
Simmons embraced this work early on in her academic career. As an undergraduate working with a nonverbal 13-year old with autism, Simmons gained insight into why the child would destroy property and, at times, resort to self-injurious behaviors.
"She was trying to communicate with her destructive behaviors," Simmons said. "That's when I discovered ABA as an evidence-based approach for treating severe behavior."
The goals she and the students working under her supervision have are pretty clear-cut: reducing challenging behaviors and developing appropriate functional skills. How to accomplish those objectives is trickier.
"How do we promote meaningful change, not just in clinical environments but also in the child's natural environment?" asked Simmons.
There's no one answer that works for all children and all scenarios. But, for now, Simmons and her students are working to improve the assessment and treatment process to promote socially meaningful outcomes. "All of my research is applied," said Simmons. "In addition to my research lab, I work closely with graduate students in practicum and undergraduate students gaining fieldwork hours."
The students are eager to learn, especially in a unique environment like the Severe Behavior Clinic, and families get high-quality and enthusiastic help—a genuine win-win.
Behavioral economics and healthy choices
With her HABIT lab, Raiff demonstrates that behavior analysis has applications for adults as well as children. She specializes in a field known as behavioral economics.
"I try to understand how people make choices and how to shift decisions towards healthier choices," she explained. "Better health choices often result in delayed rewards, whereas unhealthy choices often result in immediate rewards."
When those unhealthy behaviors win out, it's because the immediate benefit is more powerful than the potential benefit of better health later. Whether you're picking junk food over a healthy salad for reasons like taste or time, or binge watching a show over going to the gym, you're making a choice.
In the field of behavioral economics, it's often easy to figure out what drives people to choose the unhealthy behavior. The more difficult task is discovering effective ways to alter that behavior.
"Incentives that are arranged and delivered immediately" – much like those immediate rewards of making unhealthy choices – "can shift choices toward healthy behavior," Raiff said.
The use of financial incentives, sometimes called contingency management, has proven effective in helping people quit smoking and give up drugs. Of course, there's a problem with this traditional type of reward: it costs money.
Raiff is researching other, more sustainable methods of applying these immediate reward systems. Competition tends to be a big motivator. She recently received a grant from the National Institutes of Health to research the efficacy of another form of incentive: video game rewards.
"We want to see if the virtual rewards earned in a mobile game help induce abstinence from smoking," she said. "We're paving the way to make a more affordable option. The video game has great potential and is really different from anything else out there for smoking cessation."
Raiff's work is ongoing, but she and her team are making great strides.
"We're not there yet in terms of execution but, through testing, we're learning a lot about what kinds of games are effective and how to keep users engaged," she said. "We definitely have found an interest" among users.
Raiff also is collaborating with physicians at Cooper University Hospital on two Camden Health Research Initiative grants awarded by Rowan University. She's beginning to test contingency management interventions to increase treatment adherence among individuals diagnosed with opioid use disorder and to initiate smoking abstinence among individuals diagnosed with schizophrenia spectrum disorder.
Where research meets service
Research and service to the community are two of the three principles on which the Center for Behavior Analysis was founded. "There's a critical need," said Simmons of the service component. "Especially in our area, there are not sufficient intensive services for children with severe behavior concerns."
Service to the community can take many forms. Although families can come in to receive treatment through outpatient clinics in Robinson Hall, the University also coordinates with the county care management organizations in the statewide Children's System of Care (CSOC). Answering the state's Request for Qualified Providers (RFQ) for more than two years, faculty, undergraduate and graduate students and alumni involved in the Center for Behavior Analysis offer intensive in-home behavioral services (IIH) and Individual Support Services (ISS) for children with intellectual disabilities in their own homes.
"These services give both our undergraduate and graduate students a unique opportunity to work directly with children with developmental disabilities who have complex behavioral needs under the supervision of our faculty and alumni," said Simmons, who, along with her students, is highly involved in these in-home services. "Through these experiences, they gain valuable clinical skills and confidence to work with this specialized population after graduation from our programs."
An extraordinary opportunity for students of behavior analysis
What of that third principle of the center? Education doesn't take a backseat to research and service. Instead, it's a unique curriculum, along with these research and service opportunities, that makes Rowan's undergraduate and graduate programs in Behavior Analysis stand out.
"Rowan is a hotbed of behavior analytic activity," said Kerwin. "In our discipline, everyone knows where Rowan is." Undergraduate coursework available through the Department of Psychology prepares students to become Board Certified assistant Behavior Analysts (BCaBA), and the school's graduate programs can lead to the Board Certified Behavior Analyst (BCBA) credential.
"The Center for Behavior Analysis provided me hands-on training and knowledge, not only through research practices but through applied techniques used in the field of Applied Behavior Analysis," said Logan, who completed her Master of Arts in Behavior Analysis degree in 2018. "I was able to work closely with my professors to receive feedback and training that gave me the skills to become a Board Certified Behavior Analyst."
Studies in applied behavior analysis can equip students with the skills to work with these same patient populations after graduation. This coursework can also prepare them to translate the skills of behavior analysis to work with a broad range of individuals in a variety of settings.
"The principles can be applied in so many ways, from medical uses such as teaching child patients to stay still in an MRI machine and swallow pills to applications in organizational behavior management," said Kerwin. "We anticipate that the scope of research in the Center for Behavior Analysis will continue to expand as the true potential of behavior analysis as a broad health profession begins to be fully recognized."