Rowan honors excellence in online education
Rowan honors excellence in online education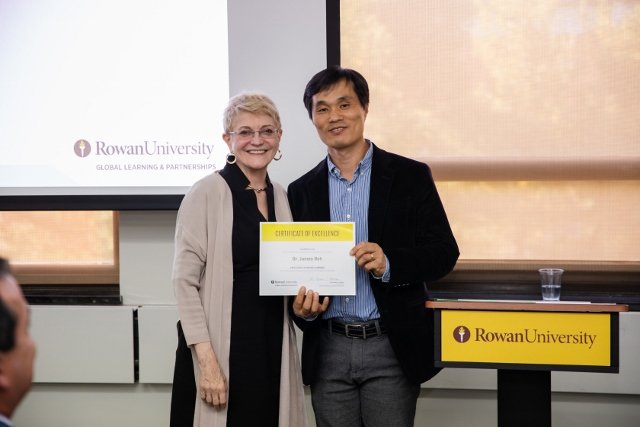 Rohrer College of Business Dean Sue Lehrman presents award to Dr. James Roh.
Distance learning, distance education, e-learning, online learning.
Whatever one calls it, hybrid and online coursework and degree programs are here to stay and with an appeal to traditional students, as well as working career people, Rowan University has fully embraced this evolving form of delivery.
On Nov. 6, Rowan Global Learning & Partnerships, which is leading the university charge into online study, held its inaugural Excellence in Online Learning Awards ceremony to celebrate some early leaders.
The program honored faculty across the University for embracing technology to serve students better through online teaching methods and accessibility.
Honored were, Dr. Abraham Witonsky, College of Humanities & Social Sciences; Dr. James Roh, Rohrer College of Business; Dr. Carl Hausman, College of Communication & Creative Arts; Dr. Charles McGlynn, School of Earth & Environment; Dr. Anna Q. Sun, College of Education; Dr. Joshua Coren, School of Osteopathic Medicine; Mr. Denis DiBlasio, College of Performing Arts; Dr. Robert White, College of Science & Mathematics and School of Health Professions; and Mr. Len Daws, College of Science & Mathematics and School of Health Professions.
This semester, of more than 19,000 students attending Rowan University, 10,561 take one or more online or hybrid online/in person courses and there are 492 online/hybrid classes offered. Rowan also offers a large selection of fully online degrees, from the baccalaureate to the doctorate.
Addressing the program, President Ali Houshmand marveled at how far and how fast Rowan has come in online/hybrid course delivery.
"When I became provost 13 years ago we had zero online courses," he said. "Forget entire degree programs, we didn't have online courses!"
An engineer by training, Houshmand noted that colleges and universities must embrace technologies, especially those that so clearly advance the mission of education.
"It's very important that we promote this mode of delivery," he said. "There will be jobs and industries to come that we can't even imagine."
Provost Tony Lowman said the University will begin offering $1,000 faculty development grants to encourage the creation of online courses.
"A good number of students are moving toward this technology," Lowman said. "Many of our undergraduates understand and appreciate it and we're reaching more working professionals."
Serving as master of ceremonies for the program, Alexander Harm of Rowan Global said the event was timed to fall during National Distance Learning Week.
"We are an institution that prides itself on creating access for all students in a variety of settings, whether that be online or on campus," he said.