Caputo named Rowan's first American Chemical Society fellow
Caputo named Rowan's first American Chemical Society fellow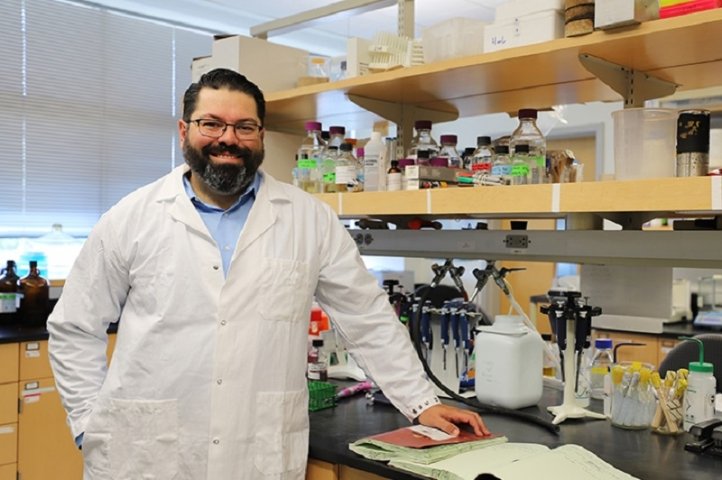 A professor of chemistry and biochemistry since 2007, Gregory Caputo has been named a fellow of the American Chemical Society. He's the first Rowan professor to be named an ACS fellow.
Rowan University Professor Gregory Caputo, associate dean of the College of Science & Mathematics, was the first in his family to attend college.
Now, he's the first professor at Rowan University ever named a fellow of the American Chemical Society (ACS).
Caputo, a professor of chemistry and biochemistry since 2007, was named an ACS fellow for 2019-'20.
Designation as an ACS fellow, a tremendous accomplishment, recognizes a member who has made exceptional contributions to the science or profession and has provided excellent service to the ACS community. Caputo, who is one of 70 ACS fellows nationwide this year, was recognized in August at the society's national meeting in San Diego.
Former head of the Department of Chemistry and Biochemistry, Caputo has served on the board of the ACS South Jersey Section since 2008. He chaired the section in 2011.
Since 2009, Caputo has organized the South Jersey Undergraduate Research Symposium, which highlights ongoing undergraduate research at colleges and universities in the South Jersey region. An external reviewer for other institutions, Caputo also serves on the ACS Committee on Professional Training, which oversees the accreditation of chemistry undergraduate programs at universities nationwide.
He's also the principal investigator of the society's Project SEED, which, for more than 50 years, has helped economically disadvantaged high school students gain laboratory research experience alongside scientists for 8-10 weeks each summer.
Caputo leads one of 11 New Jersey Project SEED sites. There are more than 350 Project SEED sites in institutions nationwide.
Caputo earned his doctorate in molecular and cell biology from Stony Brook University. He completed postdoctoral work in molecular medicine at Texas A&M Health Science Center and in biochemistry and biophysics at the University of Pennsylvania School of Medicine.
He earned his bachelor's degree in chemical biology from Stevens Institute of Technology.