Rowan hosts national program placing students in research labs
Rowan hosts national program placing students in research labs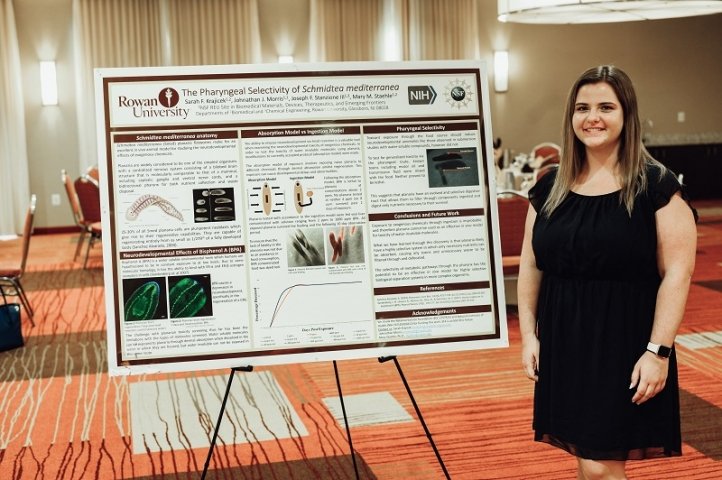 Sara Krajicek presents her research as part of the 10-week Research Experience for Undergraduates (REU) program at Rowan this summer. The program is designed to immerse college students in the scientific-research process. Photo by Ted Felsberg
Although her goal is to become a physician or a scientist, Sarah Krajicek had no experience in laboratory research. Until this summer, when she was one of 10 students from across the country who attended a 10-week program hosted by Rowan University.
The hands-on program, Research Experience for Undergraduates (REU) site, is designed to immerse college students such as Krajicek in the scientific-research process. The National Science Foundation program focused on studies of biomedical materials, devices, therapeutics and emerging frontiers in biomedical research and development.
 Krajicek graduated from Atlantic Cape Community College in May with an associate's degree in biomedical sciences. She plans to attend Rowan in the fall as a biochemistry major. The summer REU program provided her with new insight into conducting research, she said.
"It was definitely a great bridge going from community college, where the labs are really small, to a bigger school where the research is more specialized and more advanced," said Krajicek, an Upper Township resident.  
Through the program, students are paired with Rowan faculty within the Henry M. Rowan College of Engineering, the College of Science and Mathematics, and Cooper Medical School of Rowan University.
The students join existing research projects, but are expected to carve their own path. They are required to develop a research question and hypothesis related to the research. Krajicek spent her lab time researching the physiological effects of bisphenol A (BPA), a potentially harmful chemical commonly used in the manufacture of plastic containers such as water bottles.  
 The REU program was funded through a grant from the National Science Foundation. The students received a $5,000 stipend and campus housing. Admission to the program is highly competitive, and Rowan received hundreds of applications from across the US for the 10 slots this year, said Dr. Mark Byrne, a biomedical engineering professor who directed the REU with Dr. Mary Staehle, an associate professor in the Department of Biomedical Engineering.
Students were chosen based on their potential to conduct advanced research, academic performance and community leadership experience, Byrne said. Some came from as far away as Colorado and Texas.
The mission of the REU is "to train the next generation of researchers and have them try on real, cutting-edge research so you get them very interested in graduate school and becoming research leaders in the future, solving important, unmet needs," Byrne said. "In essence, the program site's mission is to promote high technical achievement among the students."
 Byrne said the program is designed to encourage participation from students who come from schools lacking the resources to conduct major scientific research. The program also seeks out students who may be traditionally under-represented, such as women and minorities.
At the end of the program, the students were required to present their work and write a manuscript detailing their findings. This helps the students understand and lead an important part of the research process, Staehle said — scientific reporting and dissemination.
The REU summer program culminated with a dinner and awards session at which the students presented scientific posters illustrating their work.
The program is valuable because it provides students a direct hand in major research projects being conducted at Rowan, funded by government agencies and industry. Among the subjects of research are how nerve injuries can be better treated to prevent permanent damage and identifying new medicines for neuropsychiatric disorders.
"These are pressing projects trying to solve major problems," Staehle said. "In 10 weeks, the students roll up their sleeves and they make a contribution."