Rowan-founded startup would give EMTs and firefighters early eyes on-scene
Rowan-founded startup would give EMTs and firefighters early eyes on-scene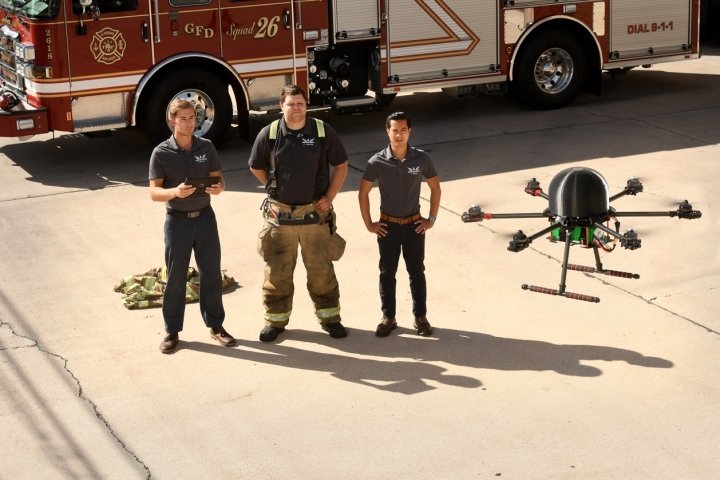 Arke Aeronautics, a Rowan-founded, Rowan-backed startup, would send drones ahead of first responders much faster than the current national average response time of six to 12 minutes, better enabling firefighters, EMTs and police officers to save lives.
"We're not shaving seconds off the response time, we're saving minutes and those minutes can be the difference between life and death," said Chief Executive Officer Brandon Graham '18, a Rowan University mechanical engineering graduate. 
"Lifesaving situational awareness"
Drones, or unmanned aviation systems (UAS), are not exactly new technology – but the way Arke Aeronautics would employ them is.
Chief Technology Officer Sherman Hartman '19, who also holds a Rowan mechanical engineering degree, said he was building drones out of the disassembled parts of video game controllers "before it was cool." In addition to his degree in engineering, Hartman is a certified firefighter and licensed EMT in New Jersey. His combined experience gives him unique insight into the needs of a first responder during an emergency.
What's innovative about Arke's technology is the process and proprietary software that would connect lifesaving, incident-based information directly to the smartphones of first responders.
"To us, the innovation is the information we provide in a live dashboard – that information empowers decision-makers on scene," Graham said. "We're creating lifesaving situational awareness before first responders arrive and that's never been done before."
Early information for first responders
Facing the unknown each time a dispatch comes through is the unfortunate reality for firefighters, EMTs and police officers. Too often, all first responders have to go on is what the dispatcher says and the inflection in his or her voice.
"Until first responders arrive on a scene, they're pretty much playing poker with the dispatcher," Hartman said.
That's something Arke Aeronautics aims to change.
For example, when a motor vehicle accident occurs and a passerby calls it in, the response isn't always as fast as one would hope. The caller may be miles away by the time a dispatcher takes the call and, often, the caller may have caught only enough of a glimpse of the scene to know there's trouble – not to know the precise location and direction of the vehicle, whether someone is trapped or whether the car is likely to catch fire.
The technology developed by Arke Aeronautics could ensure that first responders arrive at the correct location faster and allow them to develop plans before they get there. Once a dispatcher initiates a response, Arke's technology would automatically build a safe and effective flight plan and launch the UAS in seconds, virtually eliminating lag time. If first responders need the Jaws of Life to save entrapped victims, other specialized equipment or a Medivac helicopter, they would know it before they reach the scene.
Opportunity meets experience
In 2017, Graham and Hartman partnered with Jonathan Penera, then a Rowan MBA student, to compete in the Rowan University Idea Challenge.
The team were finalists in the idea challenge and participated in the 2018 RCIE Summer Accelerator, through which the company received seed funding to hire its first developers. In January, the company was selected for the 2019 Philly Startup Leaders Accelerator, a competitive 12-week program that paired Arke Aeronautics with a serial entrepreneur from the city to mentor them.
Even with excellent guidance from its mentors, the Arke Aeronautics team is learning that entrepreneurship is always an adventure.
"There's a honeymoon phase," Penera said, "and once you pass that, it's a roller coaster of ups and downs."
How are they managing this roller coaster?
"Celebrate the ups and wade through the downs, remembering that your mission is a worthwhile pursuit that has the potential to help people," Penera said.