Olshefski's QUEST nominated for two Emmy awards
Olshefski's QUEST nominated for two Emmy awards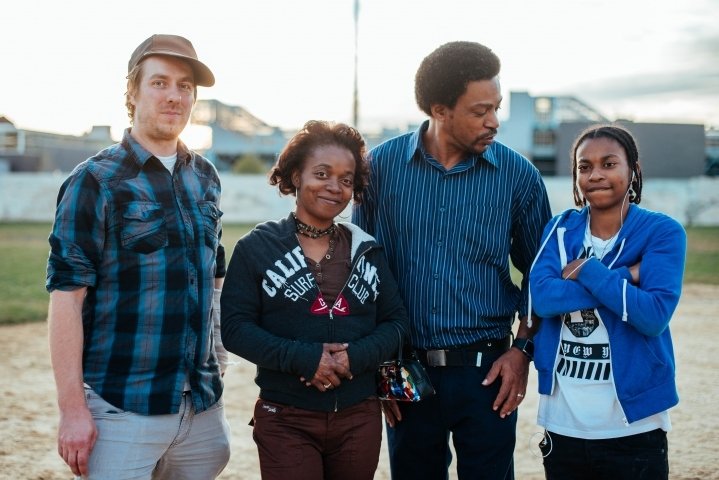 Olshefski with Christine'a, Christopher and PJ Rainey.
QUEST, a celebrated film by College of Communication & Creative Arts Associate Professor Jonathan Olshefski, is nominated for Emmy awards in the Best Documentary and Best Social Issue Documentary categories and the film could get its greatest accolades to date Sept. 24 at Lincoln Center's Alice Tully Hall.
Olshefski debuted his feature-length film about a struggling but triumphant African American family at the Sundance Film Festival in 2017 and it went on to receive acclaim at film festivals across the U.S.
Shot over 10 years in the realistic "vérité" style of filmmaking, QUEST is the story of Christopher "Quest" Rainey, his wife Christine'a and their children, a North Philadelphia family who, in the course of the film's telling, experience breathtaking moments of heartache and joy.
The film premiered nationwide on the PBS television show POV in 2018 and was an official selection at numerous highly regarded festivals including True/False, Full Frame and HotDocs. It also received great reviews in such outlets as The New York Times, which called it "wonderful", and Variety, which described it as "a living, breathing, stunning documentary."
Olshefski said nomination for two Emmy awards not only adds to the prestige his film has enjoyed but could rekindle interest in a project that has touched viewers across America.
"QUEST premiered on TV over a year ago and this gives us another opportunity for people to hear about it," he said. "Hopefully this will put it on the radar of some people who didn't see it last year."
Olshefski downplayed his odds of taking home Emmy but said there's a tremendous thrill in being nominated.
"It's all really a big honor," he said. "I'm proud of the film, proud of the team and excited for the Rainey family."
The film celebrates the strong, loving bond between Christopher, Christine'a and their children but does not flinch at showing some extremely difficult moments, such as when their daughter PJ, a happy, ebullient child, gets shot with a stray bullet on her way home from the playground. PJ survives, but she loses an eye.
Olshefski said part of the film's success lies in its straightforward approach to telling the Rainey's story.
"In many ways it's a universal story about an average American family," he said. "But I think the film also does a really good job of disrupting stereotypes, of changing views people might have of what a North Philadelphia family is. It's very much a North Philadelphia story but more than that it's an American story and I think viewers connect to that."
Olshefski said he'll certainly be present when the 40th News & Documentary Emmy Awards are presented in New York City but considers the nomination a victory no matter how the voting goes.
"Any of the five films in either category could be the winner," he said.