All about research: College of Science & Mathematics expands opportunities for students in all disciplines
All about research: College of Science & Mathematics expands opportunities for students in all disciplines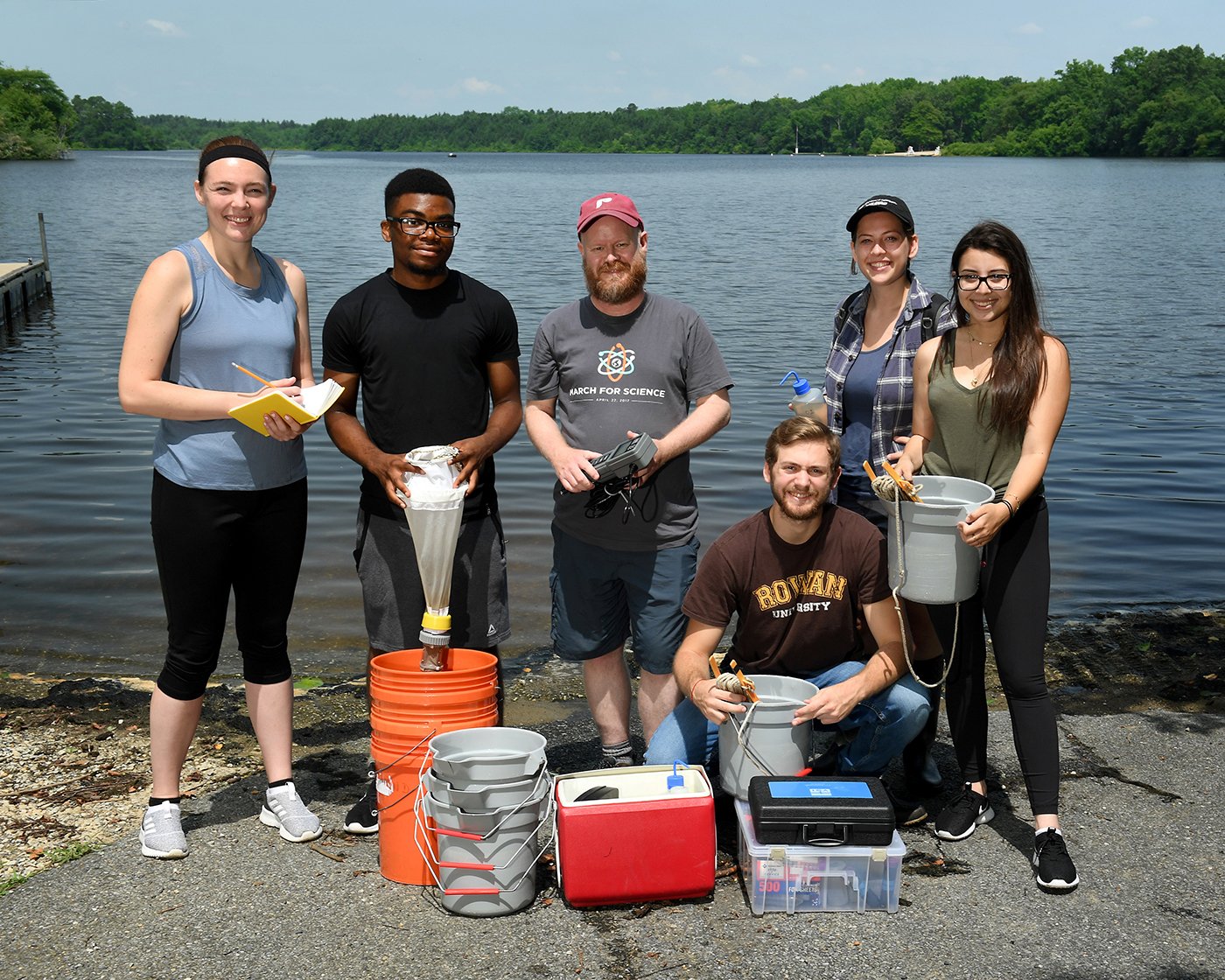 They're making the rounds of a handful of lakes in Salem and Gloucester counties, 13 biological sciences undergraduate students from Rowan University.
Their attire? That runs more to sneakers, jeans and waders than swimsuits and flip flops.
Their intent? To sample water from Elmer, Malaga, Palatine, Parvin and Rainbow lakes to measure zooplankton and cyanobacteria, tiny organisms important to the health of the lakes – in this case actually reservoirs created by damming streams.
"Humans have created these reservoir habitats," said Dr. Nathan Ruhl, a lecturer in Biological Sciences who is working on the research with Dr. Courtney Richmond, professor, and Dr. Michael Grove, associate professor and department head. "We're trying to figure out how the reservoirs alter how stream ecosystems work." In the near future, the team will study 35 lakes and reservoirs in Cumberland County as well as Salem and Gloucester counties.
Growing research opportunities
Their work is part of the College Office of Undergraduate Research Initiatives (COURI) in Rowan's College of Sciences & Mathematics (CSM) and School of Health Professions (SHP), a program that provides students with opportunities to work side by side with experts in their fields conducting important research that has added benefits – it can help them secure a seat in graduate school or a position in industry.
"Our COURI projects are advancing science in many fields," said Dr. Kristy Shuda McGuire, assistant dean and COURI director. "They also provide exceptional opportunities for our students. In the sciences and related fields, research experience is critical to acceptance into master's and doctoral degree programs, and it provides entry into first post-college jobs."
The biological sciences students who are part of the Ecological Diversity Group (or EDGe Lab), visit the lakes once a week to gather samples. They return them to the lab and evaluate the biodiversity of the zooplankton (which are fish food and can impact the status of other aquatic life) and the density of cyanobacteria (which in high numbers can produce toxins that cause gastric distress and other problems in humans).
The research may be important throughout the world. 
While the United States is not changing the configuration of waterways – building small lakes in the middle of stream channels – to the extent it did in the past, other countries are doing so, in part to control flood waters. "Globally, dams are under construction to meet a need for hydro-power. Here in New Jersey, the reservoirs we have continued to exist and they are not removed largely because they provide a flood-management service and also because they have recreational value," Ruhl said.
Making an impact
"Humans are building reservoirs all over the developing world right now. We're working locally and thinking globally," said Ruhl, who noted the Rowan team hopes to publish its findings, sharing the research nationally and internationally.
That's a goal of COURI, which has its roots in an earlier CSM/SHP program called Summer Undergraduate Research Program (SURP), founded in 2015. SURP attracted more than 100 students each summer to work with a few dozen professors on research in fields that included physics, chemistry and math. Founded by former CSM/SHP dean Dr. Karen Magee-Sauer, SURP was supported with more than $300,000 in funding from a NASA Space Grant, matched with Rowan funds that came from department budgets, faculty start-ups and faculty grants. 
Today, COURI, funded by close to $160,000 this year alone, runs year round, matching students with professors with similar interests.
"We knew that to provide our students with the broadest opportunities we needed to develop SURP into what is now year-round programming under COURI," Shuda McGuire said. "We expanded the program during 2018-19, and the response has been outstanding. More than 160 undergraduate students are conducting research this summer alone and we expect to involve at least 500 students in research during the 2019-20 academic year."
Fostering many skills
COURI provides more than hands-on experiences. Undergraduate research fosters students' critical thinking and technical skills, offers mentoring and volunteer opportunities, encourages leadership and includes opportunities for students to practice oral and written communication skills.
The program also opens doors to the wider scientific community, from co-authoring articles for major peer-reviewed conferences to attending and presenting research outcomes at symposia.
Matthew Schofield, who works on his father's farm from 6 a.m. to noon and on Rowan research from 1 to sometimes as late as 10 p.m., knows that firsthand. The rising junior computer science major, 20, from Buena Township, New Jersey, traveled to Hong Kong in June with the support of a new COURI travel award, along with Dr. Shen-Shyang Ho, an assistant professor of computer science. There he and his professor presented at the IEEE International Conference on Mobile Data Management.
The presentation was related to the work Schofield did during his first year participating in COURI, conducting research with Ho on detecting anomalies from flight data for ASRC Federal Mission Solutions in Moorestown. That work could be important in aviation and logistics operations and extended to other areas, for instance providing information that calls for a change in resource allocation should unusual human behavior become evident at the Super Bowl or directing emergency services to high-accident areas outside major cities.
Pushing toward the future
"It was interesting to attend the conference and see what Ph.D. students and scientists were working on. It pushed me more towards pursuing a Ph.D.," said Schofield, who hopes to earn a doctorate in computer science and/or become a machine learning engineer.
Ho, who has four undergraduate students working with him this summer on multiple projects funded in part by the National Science Foundation, noted, "There's a lot of support for the students in COURI."
Richmond echoed that.
"Our research students are not all going to become ecologists or environmental scientists, but this program helps them all to build general skills, and these are things they can learn from doing many different types of research," noted Richmond, who said some biological sciences students recently presented at the regional and international  Ecological Society of America conferences.
Learning important lessons
Grove said the research also teaches another important lesson. "The science is not in the classroom. The science is in the research," he said. "And 99 percent of it is grunt work. It's the one percent you live for, the big 'ah ha' moment."
Sirena Pimenta, 23, a rising senior biological sciences major from Hillside, New Jersey, sees great value in the research on which she works and in COURI. "I actually want to go into environmental science, so the procedures we use in the field and the statistical analysis that we conduct give me valuable experience I can use for graduate school and for my career."
While COURI is designed for undergraduate students, it involves and benefits graduate students as well. Ottawa, Canada, native Emma McBride, 27, a second-year Ph.D. student in clinical psychology, is working with Dr. Jeffrey Greeson, assistant professor of psychology, on the RU Mindful 2 project.
RU Mindful 2 is a behavioral science study exploring the impact of the mind on the body in the Mindfulness, Stress & Health Lab in Robinson Hall. The researchers use physiological sensors to measure such things as respiration, heart rate and brain activity on subjects when they are neutral; stressed; and practicing mindfulness exercises, including certain approaches to breathing.
Impacting others
The team is in its first year collecting data, and Greeson said he hopes to discover whether mindfulness helps speed the body's recovery from stress.
McBride said mindfulness – being fully aware of what you're doing while you're doing it, with an attitude of kindness and acceptance – is a muscle skill, something people can practice like anything else. How people use the four As of mindfulness – attention, awareness, acceptance and action – can impact their body and potentially their health. 
The project, Greeson and McBride indicated, gives students opportunities most other schools only offer to master's or Ph.D. students.
"What has been valuable for the students is we're doing a lot of hands-on training in research methodology and working with some pretty complicated equipment," McBride said.
Added Greeson, "We're trying to get students interested in high-level research at an early stage so they can decide if they want to pursue research as a career. How we know if we really want to do research is if we do it."