Stellar scholars: From Fulbrights to Borens and beyond, opportunities abound for Rowan students
Stellar scholars: From Fulbrights to Borens and beyond, opportunities abound for Rowan students
Their Rowan University studies have opened up a new world for seven Rowan University students who have received prestigious national and international fellowships and scholarships.
Among them: a Goldwater Scholarship; two Boren Awards for International Study; two Fulbright Awards; and two Teaching Assistant Program in France fellowships.
Here are their stories.
Goldwater Scholarship
Presented by the Barry Goldwater Scholarship & Excellence in Education Foundation, the Goldwater Scholarship is widely considered one of the most prestigious awards in the United States for undergraduates in natural science, mathematics and engineering and this year awarded a record 496 scholars from among 5,000 applicants. The Foundation has awarded more than $68 million in scholarships since 1989.
According to the Goldwater Foundation, Goldwater Scholars were selected based on academic and research merit from natural science, mathematics and engineering students nominated by 443 colleges and universities nationwide. Recipients were evaluated based on their academic and research accomplishments and potential for success toward advanced degrees. 
Elizabeth Bealer
Elizabeth Bealer hesitates just a little as she looks to the future, anticipating that in her lifetime organ regeneration may be possible.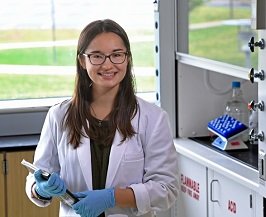 "Some predict we'll have the ability to regenerate an arm, for instance, by 2030," she said. "I think that's a little generous."
What might sound like science fiction to most people simply sounds like science to Bealer, 21, a junior biomedical engineering major in the Henry M. Rowan College of Engineering who is pursuing a Thomas N. Bantivoglio Honors Concentration in the Honors College.
Bealer, of Pottstown, Pennsylvania, didn't start out to become an engineer. "When I was in high school, I considered going to medical school, but I really didn't want to give up math – so I combined both interests in a way," Bealer said. "I think biomedical engineering is very cool, very interdisciplinary, a way to tie in different types of engineering disciplines, like chemical, mechanical and electrical engineering."
She works in the lab of her research mentor, Dr. Mary Staehle, an associate professor of biomedical engineering, developing novel approaches to detect and study the effect of chemicals on brain development. Currently, it is exceptionally difficult, if not impossible, to determine how chemicals affect the complex processes of brain development. With the advent of so many new chemicals, there is a need for preliminary screening of new chemicals prior to human exposure. So Bealer and the Staehle lab are developing a worm-based screening tool. 
Last summer, Bealer participated in a National Science Foundation Research Experiences for Undergraduates at Rensselaer Polytechnic Institute in Troy, New York, working on pressure sensors. This summer, she's interning at Regeneron Pharmaceuticals in the Albany, New York, area, working as a quality control engineer.
After graduation, Bealer plans to pursue a Ph.D. in biomedical engineering with a concentration in tissue regenerative engineering.
Her goal is to make a difference in health, first working in industry and later possibly in academia, conducting research that leads to the development of diagnostic or therapeutic tools in tissue engineering.
"I think that's the coolest aspect of biomedical engineering – the fact that we are getting close at this point to having therapeutic strategies to use skin grafts or ultimately full organ regenerations," said Bealer, who is active on campus as an Admissions Ambassador and a mentor in the Honors program, among other duties.
Boren Awards for International Study
Boren Awards provide funding for undergraduate and graduate students to obtain long-term linguistic and cultural immersion abroad for an entire year. As such, the program's central mission is to provide the United States government with experts in languages critical to U.S. national security. Recipients of Boren Awards are required to work for the federal government for a year upon completion of the program.
Boren Scholarships for Undergraduates and Fellowships for Graduate Students provide funding for students to study less commonly taught languages in world regions critical to U.S. interests but underrepresented in study abroad. Since 2016, Rowan has had five Boren awardees. This year's awardees both hail from the College of Humanities & Social Sciences.
Katie Patterson
For senior Katie Patterson, 23, of Tabernacle, being named a Boren Scholar amounts to much more than getting a scholarship.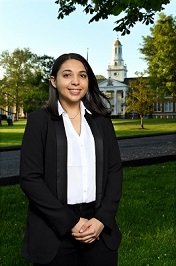 "Receiving the Boren Scholarship has completely changed my future career path," explains Patterson, who had originally planned to study abroad in China for just one semester.
Patterson, a Modern Languages & Linguistics major with minors in International Studies and Asian Studies, had previously majored first in Law & Justice Studies and then in Video and Digital Media Production.
"When I changed my major, I dreamed of working for our federal government within the FBI, CIA, NSA or even as a foreign service diplomat abroad, but I always viewed those positions as out of my reach because I don't have nearly as much experience as a native Chinese speaker," Patterson says. "I was very doubtful of my abilities when I was first applying for this scholarship."
Fortunately, with the help of Dr. Cory Blake, associate dean of the College of Humanities & Social Sciences, Patterson applied for the scholarship in spite of her doubts – and won.
"When I received the news that I was chosen as a recipient, I couldn't believe it," she says. "I decided that I would stay in China for a full academic year, rather than just four months, which can greatly further my communication abilities in the Chinese language."
Patterson plans to fulfill her federal government service requirement by working as a Peace Corps volunteer in China.
Cheyanne Marion
Cheyanne Marion, 21, a senior and first-generation college student from Philadelphia, plans a career in human rights and refugee development. Her Boren Award will send her to Jordan for a year.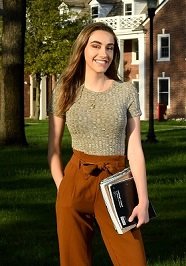 As an International Studies major with a concentration in Middle East and African Studies, studying Arabic – both Modern Standard Arabic (MSA) and Jordanian Colloquial Arabic (Ammiya) – is just part of her plan for the year. She is eager to work with refugees as part of an internship with the nonprofit organization Collateral Repair Project—work that will help her achieve her career goals.
"I am so grateful to have been awarded this scholarship," Marion says. "It will give me the opportunity to gain a working-level proficiency in spoken Arabic as well as gain unique insight into issues faced by refugee families. This will help me in the future, as I hope to help create a policy that will help alleviate the global refugee crisis."
To fulfill her federal government service requirement, Marion intends to work as a Foreign Service officer, in Jordan or elsewhere in the Middle East, for the United States Agency for International Development (USAID) or the Bureau of Population, Refugees and Migration.
"Despite being one of the least wealthy nations of the region, Jordan has become home to one of the largest populations of refugees," Marion says. "The struggle to sustain the refugee population while its native population struggles to find work has caused internal conflicts and devastation to the nation's economy. These crises are causing destabilization in Jordan and resulting in security risks for the United States as well as its global allies."
As a longstanding ally of the U.S., Jordan's instability, "due in large part to the refugee crisis, has caused a further wave of instability and human insecurity in the region," Marion adds.
Fulbright Awards
Funded through an annual appropriation by the U.S. Congress to the U.S. Department of State's Bureau of Educational and Cultural Affairs, the Fulbright program is the largest U.S. exchange program offering opportunities for students and young professionals to undertake international graduate study, advanced research, university teaching, and primary and secondary school teaching worldwide.
Students receiving Fulbright English Teaching Assistantships (ETAs) are placed in classrooms abroad to teach the English language and to serve as cultural ambassadors.
Since 2001, Rowan has had 25 students land Fulbright grants to teach and study in countries including Mongolia, Cypress, Vietnam, Turkey, Malaysia, and South Africa, among others.
Roma Anjali Padalkar
Roma Anjali Padalkar will postpone her graduation from Rowan University School of Osteopathic Medicine for a year…for a very good reason. She is the first Fulbright-Fogarty Fellow in Public Health from the medical school.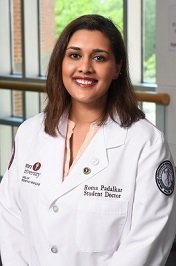 In August, Padalkar will travel to Nakaseke, Uganda, where she will work with the Johns Hopkins Center for Global Health and The Makerere Lung Institute of Uganda on a study that will analyze the effectiveness of adding an educational component on the standard of care for chronic obstructive pulmonary disease (COPD).
Her work will be part of the Global Excellence in COPD Outcomes (GECo) study, which is following results in thousands of people with moderate to severe COPD in Uganda, Nepal and Peru.
"Uganda was chosen as one of the cohort sites due to a high prevalence of COPD from biomass exposure and tobacco use, and its designation as a low-resource setting," says Padalkar. "This project will investigate the benefits and feasibility of patient education and empowerment in the management of chronic respiratory disease, which will be especially useful in areas where health care providers and facilities are scarce."
Padalkar will be working with the community health workers involved in the study along with some of the approximately 1,800 Ugandans enrolled in the study. Her duties will include tracking progress of the study participants and assisting them in completing questionnaires. In January 2020, her role will shift to analyzing the results to help determine the outcome of the study.
While in Uganda, she also plans to volunteer with a local non-governmental organization that focuses on advocacy and support for young girls in programs that emphasize the importance of reproductive health, personal hygiene and sanitation.
Padalkar, who will graduate in 2022 instead of 2021, is confident her Fulbright experience will make her a better physician.
"I believe as a physician, it is not only our responsibility to treat illness, but to help patients develop care plans that are feasible, which means addressing financial, educational, cultural and social barriers," she says. "I am interested in developing a more nuanced understanding of patient care, and the Fulbright-Fogarty Public Health Fellowship will give me that opportunity."
Imani Pressley
Imani Pressley believes that rich life experiences will make her a better teacher.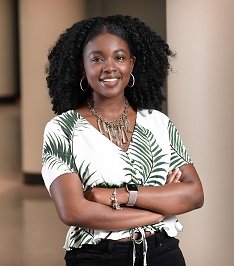 If that's so, then Pressley—and her future students—are in for quite an education. Pressley, who earned her bachelor's degrees, magna cum laude, in early childhood education from the College of Education and Liberal Studies from the College of Humanities & Social Sciences last December, has secured a Fulbright Teaching Assistantship (ETA) to teach English in Taiwan.
Next month, Pressley will leave for her 11-month ETA. She is the fifth Rowan education major and the third Liberal Studies major in the last five years to earn a Fulbright.
"I have always, always wanted to teach abroad. Throughout my journey as a teacher, I have been placed in setting that have encouraged inclusion, acceptance and tolerance—qualities necessary for every classroom teacher. In continuing this journey, I seek to perfect those qualities as I become a globally conscious, culturally-accepting teacher who encourages impactful life experiences in any classroom. Taiwan's strong education system can teach me a lot as an aspiring educator," she says.
Pressley, who studied abroad in Spain in the summer of 2017 and pursued Liberal Studies sequences in American Studies and Writing Arts, has a thirst for exploration and cultural immersion.
"I've always had a desire to learn more about the world," she says. "Studying abroad changed my perspective in amazing ways. It gave me more patience with people who speak another language and more appreciation for their struggles to lean a new one. You need real courage to do that."
Pressley expects to return from her Fulbright, land a teaching job in New Jersey and ultimately attend graduate school. She's interested in studying play therapy for children. Early leaners suit her, she says.
"I love how excited children are in early childhood," says Pressley. "As a teacher, you get to see how powerful education is. I love how real, authentic, honest and pure teaching is."
"I hope my Fulbright experiences will inspire my future students to leave their environments and see different perspectives and cultures."
Teaching Assistant Program in France (TAPIF)
TAPIF offers a seven-month immersion experience in France in which students live and work abroad teaching English to elementary and secondary school students while immersing themselves in French language and culture. This year, just 1,500 students across the United States—including two from Rowan—were selected for the fellowship program, which runs this year from October 2019 through April 2020.
TAPIF is the American cohort of the international Assistants de langue en France program, managed by the Cultural Services of the French Embassy in the United States in conjunction with the French Ministry of Education. Part of the Centre international d'études pédagogiques, or CIEP, the program operates in 60 countries across the globe, bringing 4,500 young people to France and French-speaking territories French Guiana, Guadeloupe, Martinique and Réunion to teach 15 different languages to students. Both Rowan recipients have majors and minors in the College of Communication & Creative Arts and the College of Humanities & Social Sciences.
Amy Ribinsky
Amy Ribinsky, 22, of Medford, has had a lifelong love of French language and culture.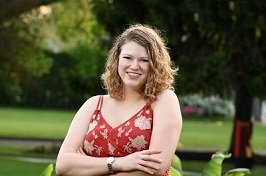 With a Thomas N. Bantivoglio Honors Concentration in the Honors College, Ribinsky graduated summa cum laude in May with bachelor's degrees in International Studies and Communication Studies.
Though she minored in French during her college career, she has known the language much longer.
"I have loved learning French since I was little," she says, "and I am looking forward to immersing myself in the French culture and sharing my own culture with my students." She will be teaching students in Toulouse, a region in the South of France.
For Ribinsky, this new chapter of her life perfectly ties together her past experiences and her goals for a bright future.
"I have been teaching ESL for the past year with my internship at Literacy New Jersey and have absolutely fallen in love with it," she says. "I can't wait to expand on that foundation next year before pursuing a career in study abroad or working at a university. I'm excited to start this new chapter of my life in Toulouse."
Kaitlyn Gaffney
While the French language clearly is one of Kaitlyn Gaffney's passions, it's a larger love for language and communication that drew her to her field of study and the TAPIF fellowship.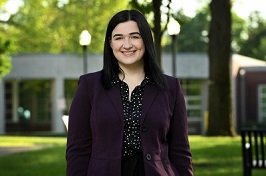 Gaffney, 21, of Denville, graduated summa cum laude in May with a bachelor's degree in Writing Arts and minors in French, English, International Studies and Creative Writing. She also pursued the Thomas N. Bantivoglio Honors Concentration in the Honors College.
Her TAPIF work assignment will include teaching in up to three secondary schools in l'Académie de Lille in Northern France.
"I have always been fascinated by the study and practice of communication," Gaffney says. "I love that the field can be approached and explored in so many ways – creatively, professionally, globally. In this way, I have always most dearly enjoyed my studies in communication, writing and foreign languages."
For Gaffney, the trip will be a welcome return to the beautiful country.
"I learned about TAPIF when I was studying abroad in Paris and immediately recognized the fellowship as a perfect opportunity to share my passion by helping French students access another language—in essence, another method of communication—and another population of the world with whom communicating is possible."
Gaffney will draw from the encouragement and exceptional caliber of education she received at Rowan from the Writing Arts and French Studies departments as she teaches her own students.
Her ultimate motivation, she says, is to contribute in some small way to both the quality and accessibility of language acquisition for young people.
"I hope to give them the same level of education and encouragement I have had the privilege of experiencing at Rowan, specifically in the departments of Writing Arts and French studies," Gaffney says.