For Bayshore climate warrior, environmental threat is personal
For Bayshore climate warrior, environmental threat is personal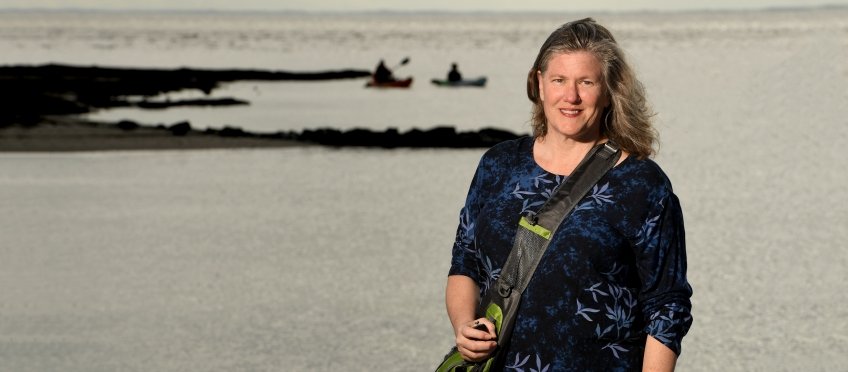 Meghan Wren's passion for the Delaware Bay community where she lives and works runs deep, from her endangered island home to the legacy of generations of oystermen who came before her to the prehistoric horseshoe crabs dotting area beaches like so many greenish-brown aliens that she's trying to save.
Graduating with a 4.0 GPA from the School of Earth & Environment, Wren plans to use her education and decades of experience to impact her community for the better.
A native of Millville, since 1997 she's lived on Money Island in Downe Township, a maritime community that's been so decimated by sea level rise that half of the original 40 homes built upon it are no longer habitable. As few as 20 year-round residents remain on the island but, if they're anything like Wren, they're so in love with the lifestyle and natural habitat that they could hardly imagine life anywhere else.
"It's beautiful," Wren said. "The clouds do a performance every day. Just yesterday, I saw bald eagles doing a dance. We see ospreys all over the place who sort of swoop in and chase off the eagles. And just this morning I saw an otter swimming across the Nantuxent Creek, which bounds the island on one side with the Delaware Bay on the other."
It was her love for the area that first inspired Wren to suspend her college education while she worked, through several Bayshore organizations, to help preserve a way of life that is unknown to most New Jerseyans, a hardscrabble yet often-serene existence that, for decades, has been in danger of dying out.
Money Island, which, despite the well-heeled image its name suggests has always been blue collar and hardworking, is home to a rebounding oyster industry and one of the most important seafood ports in southern New Jersey. It's a place where fishermen and women still sell oysters, blue claw and soft-shell crabs, conch, eels, menhaden and horseshoe crabs, which are harvested for medical research.
In fact, Wren's love for the area, for the life and people who populate the shores of the Delaware Bay is so deep that she named her son Delbay. ("He's not always thrilled about that," she said.)
And it's a love that drove her back to complete her degree at Rowan where, as a member of the Class of 2019, she's graduating with a Bachelor of Science in Community & Environmental Planning, a minor in Geography and a certificate in Geographic Information Systems so she may help her community not only survive, but thrive.
Fighting climate change
Climate change and the resulting sea level rise pose a direct threat to her home and those of her neighbors but Wren believes that through proper planning, and the acquisition of sufficient resources, the Delaware Bay region could have a future as bright as its storied past.
"I live in a community where half of the acreage has been targeted by Blue Acres for acquisition, meaning it's flood prone," Wren said. "The access road floods more and more each year and, if I don't time things right, I have to sit at the road waiting for the water to go down to get home. If there's a full moon, or a new moon, or the wind is in the right direction, it's easy to get caught off guard. Some days, the bus won't even drive out to pick up my son."
Wren has worked at, and volunteered for, organizations that address issues facing the people, history and habitat of the Bayshore region as well as for groups that advocate for them.
Her passion, said lecturer and research associate Megan Bucknum, can be infectious.
"Meghan shares her past experience and intellectual curiosity graciously within the classroom, allowing students and instructors the opportunity to learn from one another," Bucknum said.
In 1988, Wren founded the Bayshore Center in Port Norris, whose initial project was restoring the A.J. Meerwald, a 1928 oyster schooner that today ferries schoolkids and adult visitors on educational tours.
"In restoring the Meerwald, we wanted to build an appreciation for the Delaware Bay, to advocate for a healthy future for the people and places of the Bayshore," she said.
Wren chairs the New Jersey Delaware Bayshore Council, a non-profit based in Bridgeton that, according to its web site, advocates "for the health and sustainability of New Jersey's Bayshore communities, from the Cape May Canal to the Delaware Memorial Bridge."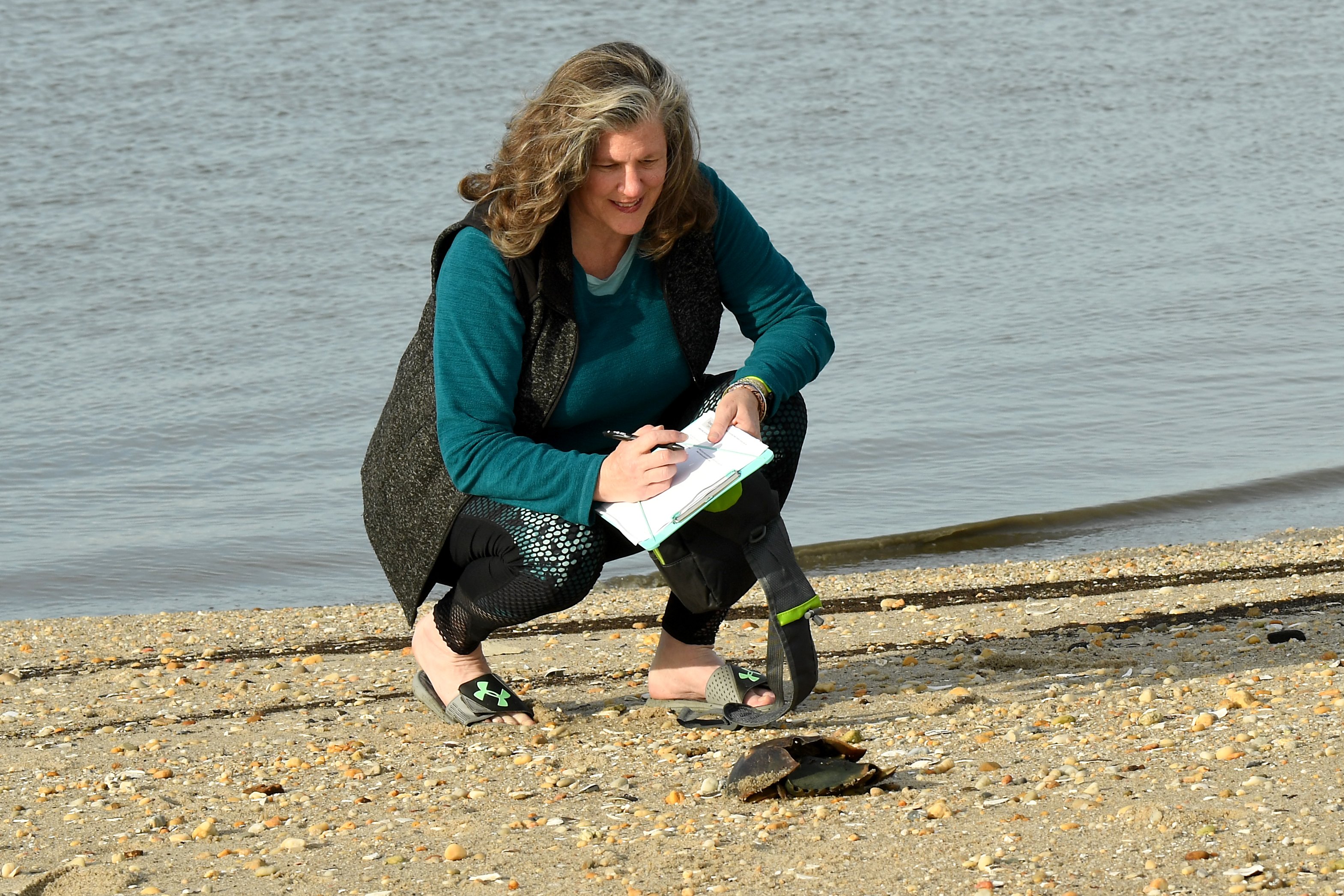 She's also involved with the South Jersey Bayshore Coalition, an umbrella group of 21 organizations that, working with municipal and state lawmakers, promotes sustainable agriculture and economic revitalization and works to preserve the area's cultural and historic heritage, habitats and waterways.
In addition, Wren helps manage the Cumberland County portion of "reTURN the Favor" a program that rescues American horseshoe crabs stranded on bayshore beaches where large concentrations of the creatures spawn each spring.
"I coordinate volunteers and do a lot of walks myself," she said. "We return like 100,000 a year to the sea."
She said the crabs are not generally considered edible, though birds feast upon their eggs laid in the sand. But their blue blood is harvested as a critical component in testing medical equipment – often without killing the crab.
"They're not dangerous at all," she said.
Hopes to stem the tide
Like those stranded horseshoe crabs, the lifestyle and livelihood of everyone who lives at the bayshore are endangered by climate change and rising sea levels, Wren said. Motivated by the projected threat to the region, she plans to continue her education with a doctoral degree in sustainability and planning.
"Climate change and sea level rise is my primary interest, but the question is, what can communities do to be better prepared for changes, whether they're related to sea level rise or economics?" she said.
"Climate change is a fact of nature but it's not happening because of nature. When you live by the coast it's hard to ignore it and it's just a shame that it becomes politicized. The science behind it was starting to be accepted many, many years ago but there's been a concerted effort to convince people that it's not happening. Well, it is."