As 23 schools vie for her, Mahaa Ahmed sets sights on her future
As 23 schools vie for her, Mahaa Ahmed sets sights on her future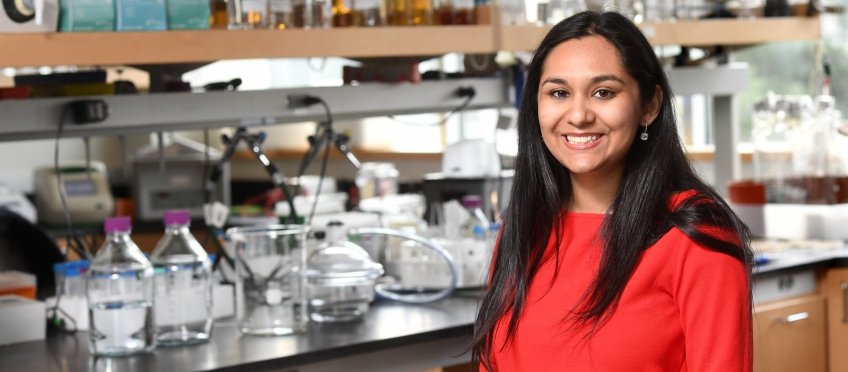 Mahaa Ahmed knows all about popular.
Harvard, Yale, Stanford, Columbia, UCLA and 18 other of the most-competitive universities in the nation and the United Kingdom accepted her into graduate school.
"I know I applied to way too many schools," laughed Ahmed, 22, who recently was named an alternate for the Fulbright Scholar Award in the United Kingdom. "I just have so many interests."
The Sicklerville, New Jersey, resident who is about to graduate with a bachelor's degree in two majors (biological sciences and philosophy and religion), a minor (dance) and a Thomas N. Bantivoglio Honors Concentration, said, "I did a lot of research and looked into every class. It took time so I started applying in the summer to make sure I finished before I started my senior year. I made sure I had a good reason to apply to each school and could picture myself living there," she explained.
Driven, passionate and academically gifted, Ahmed challenged herself throughout her time at Rowan University, and clearly other universities saw her determination. Just one of the 24 schools to which she applied turned her down.
The perfect combination
Like many college students, she considered several majors during her undergraduate years. Ahmed always knew she would major in biology because she dreamed of becoming a doctor since the seventh grade. But Rowan University opened her eyes to a wide variety of degree combinations. Ahmed could not decide on just one. Instead, she created her ideal degree­—a mixture of science, humanities and arts.
She beams when talking about her majors.
"Biology is easy, but philosophy and dancing push you to think differently," she said.
She's been dancing since the age of three. So it makes sense Ahmed chose dancing as her minor. But it was not easy. "Dancing is making something, which is a lot harder than solving a biology problem."
"My favorite yet toughest project was from Dance Composition. We had to compose a dance from two different words, 'sin' and 'virtue,'" she said. Ahmed was able to incorporate her family Bangladeshi heritage and her passion for medicine into one dance. "My piece was called 'Tangled.' It portrayed illness and how you become a prisoner of your own body. I was able to wear Indian ankle bells as handcuffs to represent the prison aspect."
And then there is philosophy.
"Philosophy courses are extremely difficult. I have to use parts of my brain I didn't even know I had," she said. Motivated by the challenge, Ahmed added Philosophy and Religion Studies as her second major during her sophomore year. 
Balancing two majors and a minor is no problem for Ahmed—thanks to her three planners. Happily, this semester she did not have to take 22 credits, as she did several times in the past. She finally can enjoy watching "Modern Family" on television, taking the occasional nap and attending concerts on the weekends.
Investigating infectious diseases
She also tossed research and a job into her school mix.
"I wrote an essay in the seventh grade about diarrhea and how it makes someone extremely sick—not the most glamorous subject. But I realized how sick it can make young children in developing parts of the world. It's something we never really think about," Ahmed said.
That was only the beginning of her research. During the summer between her sophomore and junior years at Rowan, Ahmed worked in the Department of Civil and Environmental Engineering at the University of California-Berkeley as part of the Re-Inventing the Nation's Urban Water Infrastructure, a National Science Foundation Research Experience for Undergraduates.
"I researched the impact of sanitation and how to detect pathogenic E.coli in different water samples from Bangladesh. It was a part of a large public health study and really sparked my interest," she said.
That, coupled with her study of infectious diseases in her microbiology class, reinforced her decision to become an infectious disease specialist.
Always helping others
Ahmed works at the Engineering Outreach Office at the Henry M. Rowan College of Engineering to help coordinate K-12 outreach. Every Tuesday and Thursday she coordinates STEM (science, technology, engineering and mathematics) visits for local schools to engage and empower young minds. During the summer months, Ahmed helps run Attracting Women into Engineering; Boys' Engineering, Science and Technology; and Rowan's Introduction for Students to Engineering programs for middle school and high school students.
During the course of her four years at Rowan, Ahmed interned at the Wellness Center through the Office of Healthy Campus Initiatives, volunteered as a hospice caregiver at Caring Hospice Services, mentored freshman honor students through Bantivoglio Leadership and Service Training and coordinated the Student Scholars Symposium through the Rowan University STEM Center.
"I really like helping people and seeing them be happy. For hospice, I would sit with the patient and read, color or share stories. Just talking to people can really make a difference," Ahmed said.
Ahmed worked hard, often ate mint ice cream instead of dinner and spent most of her days in the lab to complete her degrees in four years. She will graduate magna cum laude during the Commencement ceremony for the College of Science & Mathematics on Monday, May 13.
Rowan recognized Ahmed's academic achievements by honoring her with the Excellence in Philosophy Medallion and initiation into Phi Sigma Tau—The International Honor Society in Philosophy.
"Mahaa's mastery of science and philosophy are a powerful combination. She knows just how much scientific inquiry can contribute, but is also keenly aware that we are human," said Dr. Matthew Lund, associate professor of philosophy in the Department of Philosophy and Religion Studies in the College of Humanities & Social Sciences. "Mahaa knows that we must solve the hard problems of politics, health, morality and survival by bringing to bear the full force of our human reason and passions."
The next steps
Ahmed's heart is set on continuing her education at Harvard University and pursuing a Master of Science in Environmental Health with a focus on environmental exposures and infectious diseases.
"The program at Harvard is interdisciplinary. That's one of the main reasons I choose it. I will have the ability to take classes at other schools aside from public health, such as the law or business school," she said. 
After she completes graduate school, Ahmed plans on moving on to medical school and anticipates applying to another 24 universities.