National standout
National standout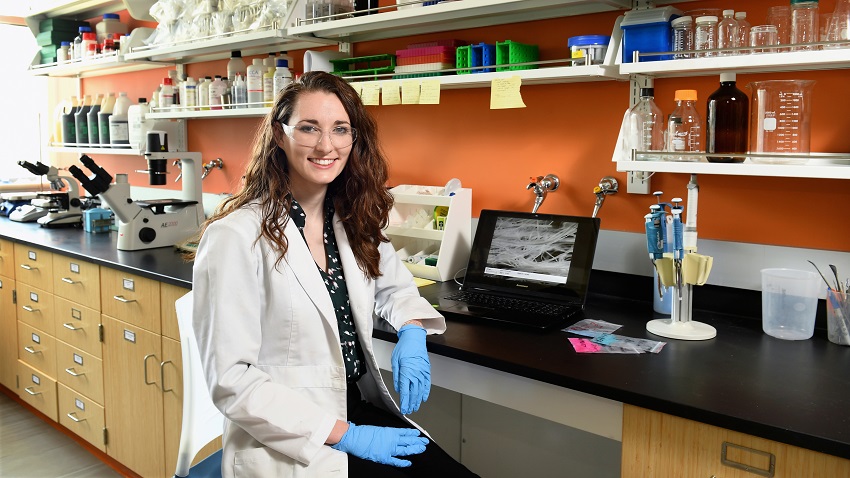 Summa cum laude graduate Kelsey DeFrates, a Goldwater Scholar, will study biomedical engineering at the University of California, Berkeley.
It's nice having the kind of problem Kelsey DeFrates has.
Attend this graduate program or that? Earn a Ph.D. in the heartland or on the coast? Choose from, oh, say, close to a dozen schools that have accepted you this week or next?
DeFrates, who graduated with a bachelor's degree in biomedical engineering and a Thomas N. Bantivoglio Honors Concentration in the Honors College, already had the academic goods to land her a seat in her choice of schools, including a 3.97 GPA, a 2017 Barry M. Goldwater Scholarship, a 2017 Anousheh Ansari Scholarship, research awards and cutting-edge research experiences at Rowan among them.
Enter the NSF
Thanks to the National Science Foundation, she also has the financial backing. The NSF awarded the Audubon, New Jersey, native a 2018 National Science Foundation Graduate Research Fellowship (NSF GRF). With it comes three years of financial support within a five-year fellowship period – a $34,000 annual stipend and $12,000 cost-of-education allowance to the graduate institution.
And while that's impressive in and of itself, the honor carries with it much more than financial support. One of the most prestigious awards in science, technology, engineering and mathematics (STEM) fields, the highly competitive NSF GRF – more than 15,000 applicants apply for 2,000 NSF fellowships each year – will open doors for her as she finishes grad school and begins her professional life.
"These awards are provided to individuals who have demonstrated their potential for significant research achievements, and they are investments that will help propel this country's future innovations and economic growth," the NSF notes. They recognize "the best and brightest with highest potential."  
DeFrates has a history of success.
She excelled academically in high school (she was salutatorian of her class); ran track and competed in hurdles ("I wasn't that great"); played tennis; and was a member of student council, the National Honor Society and other groups.
She looked at several colleges and selected Rowan, which offered her the right mix of small classes, first-rate programs and a chance to get involved in innovative research.
Many opportunities, many contributions
Here, she has had her hand in many initiatives. In addition to her work in the Henry M. Rowan College of Engineering and in the Honors Concentration, she has conducted extensive research in the College of Science & Mathematics, working under mentors Dr. Timothy Vaden, in the Department of Chemistry and Biochemistry, and Dr. Xiao Hu, in the Department of Physics and Astronomy with a joint appointment in Biomedical Engineering.
"Kelsey has worked with me in chemistry since her freshman year and has had a lot of success coauthoring published articles, presenting at conferences and representing us well at other institutions," Vaden says. "She clearly has a gift for understanding the future trends in science and engineering. It's been great to see her develop her own research ideas and evolve her research projects for her future career and also to receive the recognition she deserves."
She also has served as vice president of the Tau Beta Pi Engineering Honor Society, programming coordinator for the Honors concentration and co-founder of the Biomedical Engineering High School Kindle Program. She was a member of the Biomedical Engineering Society, the Society of Woman Engineers and Engineers Without Borders her freshman and sophomore years.
Started with a dozen
DeFrates applied to 12 graduate programs and was accepted by most. She was invited to many schools, opted to visit some but not all and eventually selected the University of California, Berkeley for the next stage of her education.
"Berkeley is one of the top engineering schools and it has ties to the University of San Francisco, which has one of the top medical schools in the country. It's a perfect match for biomedical engineering," she notes.
She'll be the first engineer in her family – her mother, Denise, is a preschool teacher's aide; her father, Tom, works in construction; and her kid sister, Ashley, is a freshman at Audubon High School, where she loves math and science just like her big sister.
DeFrates says her parents, neither of whom has a four-year degree, are exceptionally hard workers who encouraged her to attend college.
Valued education
"Seeing how hard they work and knowing for the amount of work they do they should be making more money, I saw education was necessary for the success that they deserved. They always made me understand the value of education," DeFrates says. "As soon as I started school, they were like, 'You're going to college. We're going to do everything we can.' I understand the value of education. It's a gift, a privilege. I don't take it for granted."
"Growing up, I didn't know a lot about STEM. I relied a lot on teachers and professors, and that has made me want to become a teacher and a professor because I see how valuable they can be in someone's life," adds DeFrates, who says a high school calculus and chemistry teacher with an engineering degree suggested she consider engineering.
"Kelsey is an amazing student. She has grown tremendously in our program and is a shining example of her taking advantage of many opportunities at Rowan for students to fully develop their talents. With our upward research trajectory and the cutting-edge research opportunities in the Henry Rowan College of Engineering and the College of Science & Mathematics, we are well positioned for our students to be recognized by prestigious fellowship awards like this, and future years' cohorts will be bigger," says Department of Biomedical Engineering Chair Dr. Mark Byrne.
DeFrates said she's worked with a strong network of people – at Rowan and beyond – including Byrne. In addition to Vaden and Hu, she counts among her mentors Dr. Mary Staehle, an associate professor of biomedical engineering, and Drs. Lee Talley and Kristen DiNovi, dean and assistant dean, respectively, in the Honors College.
As for winning the NSF GRF, DeFrates quickly summed up her reaction: Amazing.
Committed to research
"To get this I had to write a personal statement and discuss not only my commitment to do great scientific research but also to make STEM more inclusive, to get other people excited about STEM like I'm excited about STEM," she says. "I also had to write an actual research proposal."
Perhaps one of the best parts, though, is this, she says: "The NSF is not so much about funding an idea. It's about funding an individual they feel is going to have a successful career and benefit science."
So with the acceptance letters in hand and promise of tuition and a stipend, DeFrates ultimately decided to head to the Golden State and work with Dr. Phillip Messersmith, a professor in the Departments of Bioengineering and Materials Science and Engineering at Berkeley.
"I will be working with him on developing biomaterials that are inspired by naturally occurring materials and using them for medical applications," DeFrates says. "Ultimately I'd like to become a professor in biomedical engineering."