Summer programs RAISE academics for high school students
Summer programs RAISE academics for high school students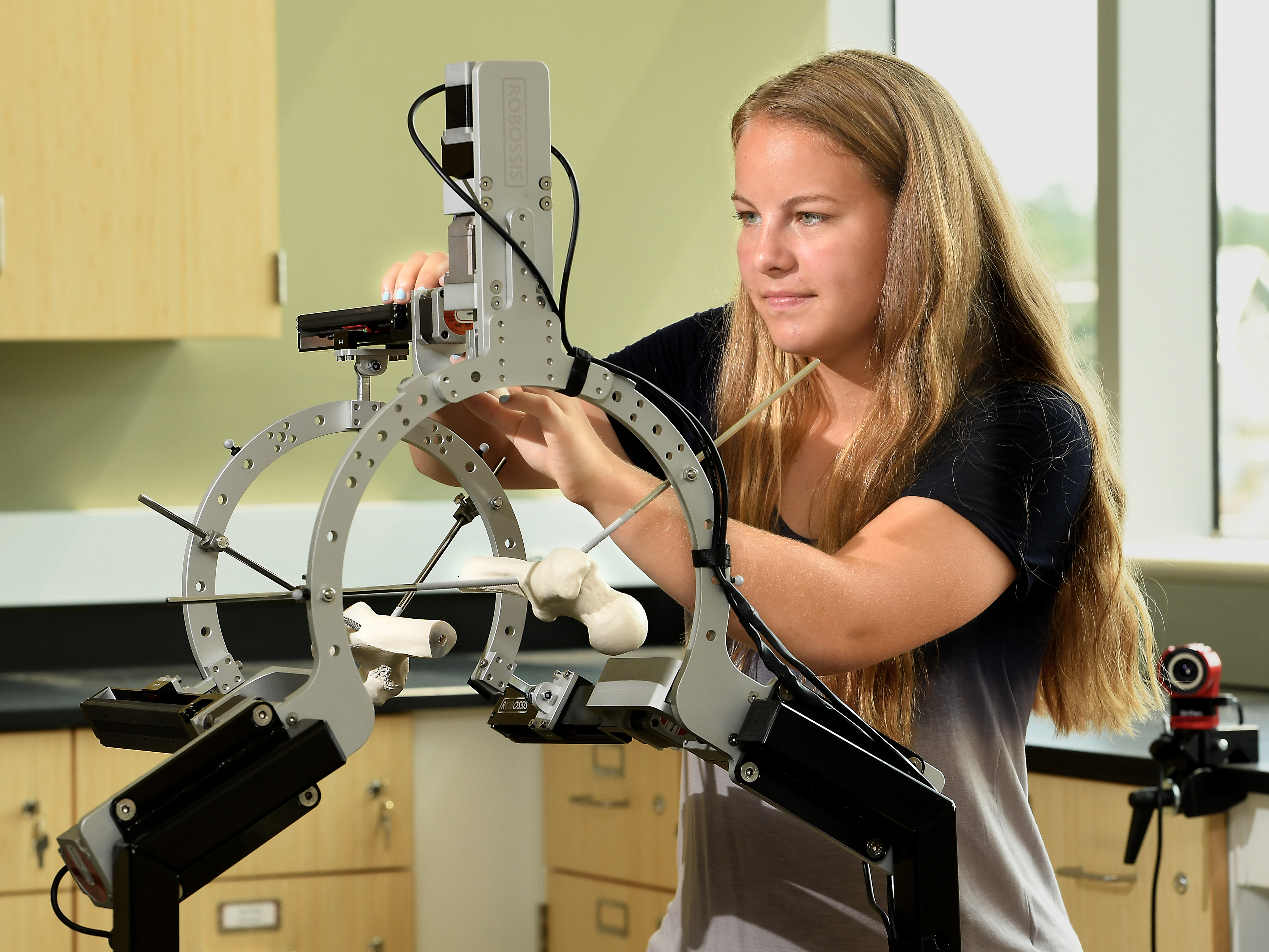 It may seem odd to hear high school students use words like "exciting" and "enjoyable" when discussing what it's like to spend a large part of their summer in school, but those and other superlatives frequently described summer programs for teenagers on Rowan's Stratford and Glassboro campuses.
To be fair, these students weren't engaged in the usual secondary education experience. Instead, they had successfully applied for programs that gave them insight into advanced studies in medicine, research and biomedical engineering.
From high school to high-end research
Spread out in labs throughout Engineering Hall on the Glassboro campus, five high school students worked with professors on research that promises to impact health care. They participated in the first year of the Biomedical Engineering segment of the competitive summer high school internship program started three years ago at the Stratford-based Graduate School of Biomedical Sciences (GSBS).
Led by Dr. Mary Staehle, undergraduate program chair and associate professor of Biomedical Engineering, this segment of the summer institute placed the high-achieving math and science students recommended by their teachers in the thick of some high-end research.
John Anderson, a senior at North Hunterdon High School, first heard of the summer program when he was on campus as a Governor's STEM Scholar, attending a conference in December. This summer he worked with Dr. Peter Galie on research related to a microfluidic pressure-controlled actuator for vascular studies.
"I wanted to come back, and I wanted to see if I could take advantage of the facilities here. I heard how great it was. I wanted to get a taste of what it's like to do some research," said Anderson, who lives about two hours away in Clinton Township, New Jersey, and stayed in a hotel near campus during the program.
The students, all of whom – at least for now – are planning to pursue engineering in college and as profession – found the program beneficial.
Bridget Gras, a senior at Shawnee High School, worked with Dr. Mohammad Abedin-Nasab, an assistant professor of biomedical engineering who is developing a robotic device that can assist surgeons in treating patients with broken bones, enabling patients to heal faster and with fewer complications.
Gras, of Medford, said, "I came in knowing I wanted to do engineering, but I didn't know about the biomedical part. I learned all the different projects people work on and what you're able to do in biomedical engineering."
According to Staehle, "The experiences of these students align well with the mission of Rowan's Biomedical Engineering program, which includes inspiring the next generation of scientists and engineers." And as a result of the successful program this summer, she added, "We will be continuing and expanding these programs in the Department of Biomedical Engineering next summer."
That's good news for Dr. Katrina Cooper, an associate professor of Molecular Biology, who developed this program at GSBS to give high school students a chance to take advantage of the kind of mentoring program that helped launch her career as a research scientist.
This summer, GSBS hosted six additional students who worked with biomedical research faculty in Stratford campus laboratories, performing independent research on a variety of projects under the guidance of a faculty mentor.
Alexandra Strich, a junior at Shawnee High School in Medford, worked in Cooper's lab, investigating how cells make the decision to die following exposure to stress, a process that influences the formation of cancerous tumors.
When asked about the impact the summer program will have when she returns to her high school studies, Strich said that her understanding of science has improved and the labs she will encounter this school year may be easier because of the summer experience.
"There's more you can do here because it is more hands-on," she explained. "We don't have this sort of technology in high school."
Dominic Bates, a senior at Southern Regional High School in Manahawkin, also worked on research that explored apoptosis, or programmed cellular death. He focused on a protein in yeast cells that determines if cells live or die under stress and if it is possible to switch cells away from the pathway that leads to cellular death.
Bates pointed out the appeal of the opportunity to participate in higher level research in the Rowan summer program, saying "I really found it exciting. It was a challenge and a whole new experience to be doing work I like and potentially discovering something that could one day prevent cancer or destroy cancer cells from growing."
Other research undertaken by the students in Rowan's Glassboro and Stratford laboratories included different aspects of tissue development using the worm model system; bacterial genetics and fluorescent microscopy technologies; engineering the polymer nanostructure of contact lenses for controlled drug release; developing a microfluidic pressure-controlled actuator for vascular studies; and engineering conductive polymer nanofibers for tissue engineering grafts.
Immersed in medicine at SOM
On the Stratford campus, 25 area high school students sampled the academic rigors of medical school during the inaugural RAISE (Recognizing Achievement and Inspiring Student Excellence) program at the School of Osteopathic Medicine (SOM). Thanks to a generous donation from the Kal and Lucille Rudman Foundation, there was no cost to the students who attended the six-week "mini-med" program that included lectures, labs, shadowing opportunities and field trips.
Matthew Tribble, a second-year SOM medical student who coordinated the RAISE program, said the teenagers had a complete medical school immersion during their summer program. As part of the RAISE experience, the high school students participated in the same anatomy lab as first-year medical students, learned suturing, ultrasound and intubation techniques, and worked in problem-based learning teams to analyze patient cases to determine a diagnosis and recommend appropriate treatment approaches.
Paula Watkins, assistant dean for Admissions at SOM, said the support of the Rudman Foundation was critical in launching this important program.
"We are so thankful to Kal and Lucille Rudman for providing the resources that made RAISE possible," she said. "Programs like this help us to respond to the looming shortage of physicians by getting young students who are thinking about medicine or the health professions into an immersive, hands-on experience."
For Mary Renner, a senior at Timber Creek High School, those hands-on opportunities are what set RAISE apart from other programs.
"RAISE is like nothing you've ever done," she said. "For anybody who wants to go into any type of medicine, this is the program you want to get into. It wasn't just about trying to cram information. The entire program was based around what we wanted to see and learn about the human body."  
According to Taylor Smith, a senior at Paul VI High School, the sense of community at SOM also set RAISE apart from other programs she had attended.
"Medicine is a very long road, but everyone at SOM made it seem attainable and they were concerned about what was best for us," she said. "I am so thankful to the Rudman's for making this possible. They embody the spirit of the community at SOM where it truly feels like a family."