NSF awards CAREER grant to Rowan U biomedical engineering professor
NSF awards CAREER grant to Rowan U biomedical engineering professor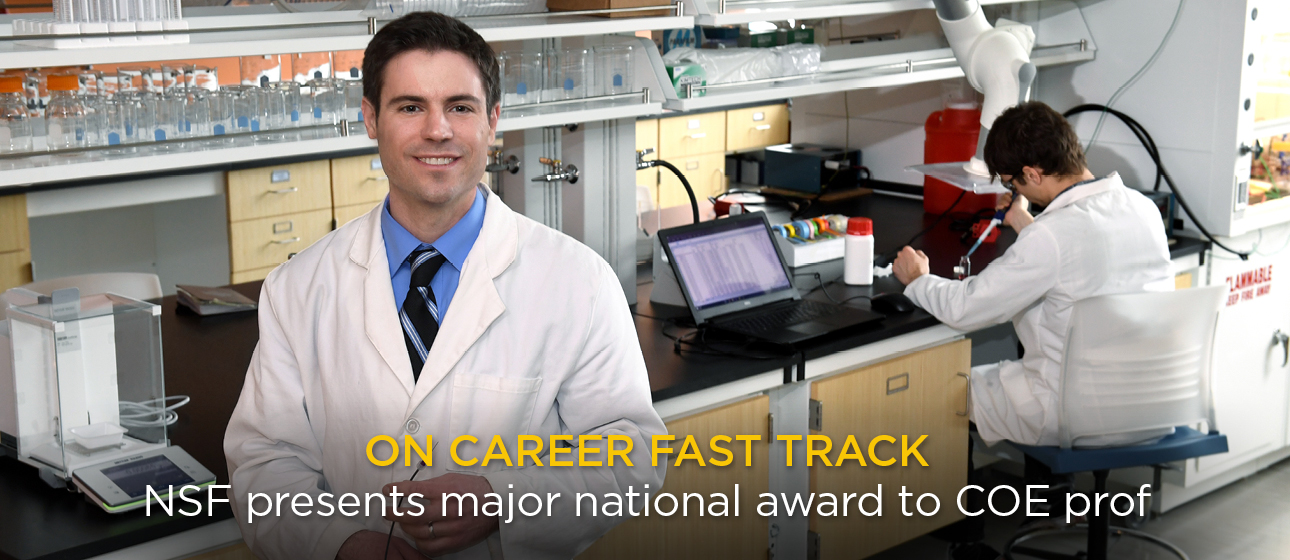 The National Science Foundation has awarded a prestigious CAREER grant – one of its highest honors for young faculty members – to Dr. Vince Beachley, an assistant professor of biomedical engineering in the Henry M. Rowan College of Engineering at Rowan University.
Beachley will use the $500,000 award to support his novel work titled "Post-Processing Polymer Nanofibers for Improved Mechanical Properties."
Most prestigious
According to the NSF, the Faculty Early Career Development (CAREER) Program offers the organization's "most prestigious awards in support of early-career faculty who have the potential to serve as academic role models in research and education and to lead advances."
Beachley, along with a team of graduate and undergraduate engineering students, will focus on enhancing the mechanical strength of polymer nanofibers through a processing method know as post drawing. Post drawing elongates the fibers to several times their initial length and causes long molecules to align inside the fiber, increasing its strength.  Strong polymer nanofiber materials could be useful in such diverse areas as biomedical implants and aircraft components.
The most common way of producing larger polymer fibers is via liquefying, extruding and drawing out the materials. Extrusion provides engineers and scientists with a fiber as small as 5 to 10 microns. A human hair ranges from 17 to 181 microns. Electrospinning, a nanofabrication process driven by a high-voltage power source, can produce nanofibers that are 100 to 1000 nanometers, rougher 200 times thinner than a human hair.
However, electrospun nanofibers have surprisingly poor strength. "Generally, as you make materials smaller they become stronger. Nanofibers should be stronger than conventional polymer fibers, but they're not," Beachley said. "This could be because they are not subject to post drawing. We expect to be able to make much stronger electrospun nanofibers by integrating this process."
Health care, environmental benefits
If post drawing leads to stronger electrospun nanofibers, they can be used in more applications that will benefit industries and the environment, including reducing energy costs and improving orthopedic procedures, such as anterior cruciate ligament replacements.
Beachley's reaction to the award was straightforward. "Very excited. To get this award and to get this honor, it's humbling," said Beachley, who has three patents related to the work covered by the award. "We've already shown that we can make much stronger nanofibers with these processes. The research funded by the CAREER award will be focused on discovering how that works and just how far we can push the technology. Given the broad applications of strong lightweight materials, the potential impact could be immense."
Hired as the first professor in Rowan's new Department of Biomedical Engineering, Beachley earned a B.S. in engineering science and mechanics from Virginia Tech and a Ph.D. in bioengineering from Clemson University. He was a postdoctoral fellow at the Johns Hopkins School of Medicine in the Translational Tissue Engineering Center. He joined the Rowan faculty in 2014.
Multiple patents
Beachley holds 11 issued or pending patents and has been awarded close to $1 million in other research funding. He has won numerous awards, including the Rising Innovator Award from the Rowan Office of Technology and Commercialization. Among his outreach activities have been sessions at Williamstown High School to teach and inspire the next generation of scientists and engineers. The CAREER award will fund such outreach, in addition to research and technology development.
Dr. Anthony Lowman, dean of the Henry M. Rowan College of Engineering, said, "Dr. Beachley's work is important to many fields. While he has demonstrated exceptional talent throughout his career at Rowan – and before – this award provides national recognition from one of the most important organizations in our nation that funds engineering research. It's a reflection of his work and the caliber of our faculty overall."