Rowan Ranked 3rd Nationally for Social Mobility
Rowan Ranked 3rd Nationally for Social Mobility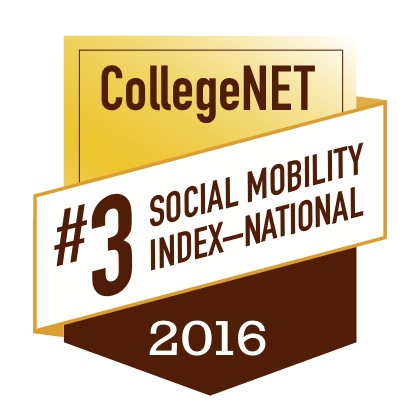 Rowan has once again been ranked third nationally by technology firm CollegeNET in its annual Social Mobility Index (SMI), the only university in the country to be in the top three, three years running.
Tallied in the fall but released in January, the SMI measures the impact institutions have on graduates' ability to be economically mobile, an impact that's especially important to students of low-income families.
In an effort to discover why the highest ranked institutions do well in changing the lives of its students, CollegeNET researched the 10 top-ranked institutions and named Rowan its first Social Mobility Innovator for 2017. Along with the nine others, the firm will promote Rowan's efforts nationally. 
CollegeNET's recognition speaks to Rowan's core mission and student-centeredness. 
The past few years Rowan has taken numerous steps to help students graduate on time and on budget, among them:
·      created University Advising Services, a one-stop shop for professional academic advising;
·      hired more than 30 professional advisors to help students stay on track;
·      encouraged further utilization of the Rowan Success Network, a portal through which faculty may alert counselors about struggling students so advisers can intervene early.
And the numbers are clear: over the past four years Rowan's four-year graduation rate improved from 40 to 51 percent.
One accolade of many
Announced Jan. 11, Rowan's designation as CollegeNET's first Social Mobility Innovator 2017 is but the latest recognition of the University by national higher education ranking models.
This past fall U.S. News & World Report ranked Rowan 5th among public schools in the Regional Universities/North category out of 187 colleges and universities studied and it ranked Rowan #2 for innovation.
The news service rated the Henry M. Rowan College of Engineering #22 out of more than 200 schools nationwide where the highest degree offered is a bachelor's or master's degree, a six-place improvement over 2016 and a 12-place improvement in the last two years.
Those rankings followed a College Factual/USA Today survey that placed Rowan 327th out of 1,387 colleges and universities nationwide.
In August, Forbes and Money magazines ranked Rowan among the "Top Colleges" in the U.S. for 2016 and among the "Best Colleges 2016-17," respectively.