Rowan Ranked in Top 100 Among U.S. Public Schools
Rowan Ranked in Top 100 Among U.S. Public Schools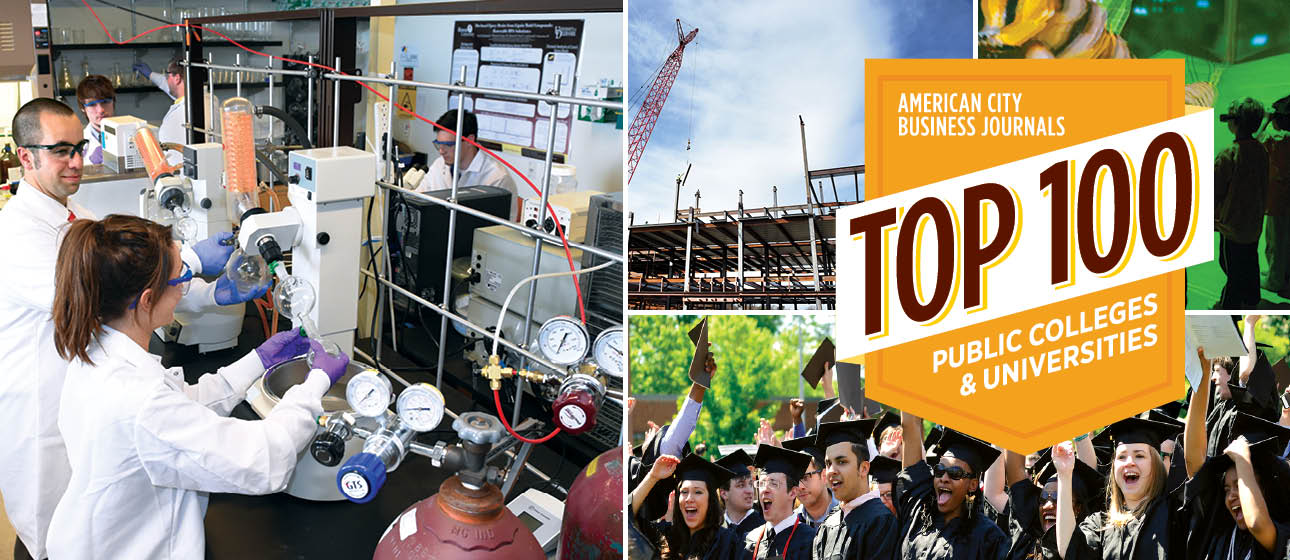 American City Business Journals (ACBJ), the parent company of the Philadelphia Business Journal, has ranked Rowan #97 among the top 477 public colleges and universities across the United States.  
The study, in its second year, compared data from several categories for each school and assigned a point rating for each including selectivity, advancement, prestige, resources, costs and impact on the community. Rowan jumped 15 places in the ranking in just one year.
Rowan University President Dr. Ali Houshmand said "the university's strategy for growth and improvement is clearly paying dividends."
"I am pleased that organizations continue to recognize our value proposition—acknowledging Rowan is a good investment for the state, business partners, and our students," Houshmand said.
Under Houshmand's leadership, Rowan has become ever more focused on the business of operating a university, entering public-private partnerships and encouraging collaboration between business, engineering and medical schools. The University is reducing costs while increasing quality and offerings.
Among recent developments:
A public-private partnership has led to the construction of a $145 million housing complex for 1,400 students that will open next fall.
Rowan's partnership with the Borough of Glassboro and private developers and has led to the $350-million Rowan Boulevard project, which is now about 70 percent complete and features a Barnes & Noble book store, hotel, student housing, retail, restaurants and a new urgent care facility.
The University's South Jersey Technology Park last year expanded its virtual reality center to foster scientific research and private business endeavors. Construction on a second building will start this spring.
The University has established a $5 million Rowan Innovation Venture Fund to help seed aspiring entrepreneurs with promising business plans.
Rowan is in the midst of various major capital projects including construction of a new, $63 million building for the Rohrer College of Business and a second, $71 million building, for the Henry M. Rowan College of Engineering. The construction will allow both colleges to double enrollment.
"As always, there remains much to do but it's very gratifying to be noticed for our hard work," Houshmand said. 
The ACBJ report analyzed data from the National Center for Education Statistics and the U.S. Census Bureau's American Community Survey and gave the highest marks to schools with highly selective admissions processes, strong retention and graduation rates, prestigious reputations, generous resources, affordable tuitions and housing costs, diverse faculties and student bodies, and economically robust communities.
The study was the latest to score Rowan well. For 2016, U.S. News & World Report ranked Rowan #19 out of 131 schools in its category and third among public schools.
That study also noted that undergraduate programs in the University's College of Engineering improved six places since 2015, from #34 to #28, tying with four other institutions out of 214 surveyed.
USA Today, in its second annual study, this year ranked Rowan #303 out of 1,393 "Best Nationwide Colleges."
Perhaps most significantly, Rowan in 2014 ranked second out of 539 colleges and universities in a first ever "Social Mobility Index." Conducted by compensation data collection firm PayScale, the study compared schools whose alumni leave college with relatively low debt and earn well within five years of graduating.