Move-in motivation
Move-in motivation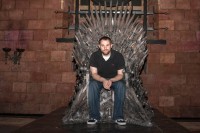 Emmy Award-winning alumnus Adam Chazen had a few words for Rowan's incoming freshmen class Saturday, Sept. 1: get involved.
A 2008 Radio/Television/Film graduate from the College of Communication & Creative Arts, Chazen is a visual effects coordinator on the hit HBO series Game of Thrones. He won an Emmy last fall for Outstanding Special Visual Effects on the show and is nominated in that category again during the Sept. 15 Primetime Creative Arts Emmys in Los Angeles.
Returning to Rowan to accept the Distinguished Young Alumnus Award, Chazen addressed the freshmen class during the President's Welcome and Picnic on the University Green, one of numerous events held to ease students onto campus.
Chazen said he got involved wherever he could as an undergraduate and advised incoming freshmen, whatever their major, to do the same. Chazen said organizations like Student University Programmers and the Rowan Television Network helped him build experience while earning his degree that proved invaluable when he headed west to Hollywood.
"With the Student University Programmers, I was given a budget of $150,000 to bring in acts like Zach Galifianakis, Bob Saget, and Reel Big Fish," he said. "Take advantage of all the opportunities that interest you and you're guaranteed a meaningful experience."
The incoming class is Rowan's largest and best qualified ever. Nearly 10,000 students applied for some 1,800 seats and regularly admitted enrolled freshmen entered with an average SAT score of 1,215 and an average GPA of 3.6.
Addressing the Class of 2017, Rowan President Ali Houshmand said they join the University during a historic time. Rowan this year was designated the second comprehensive public research university in N.J., it now operates two medical schools, and it's on course to double enrollment to 25,000 students in the next 10 years.
Move-in Momentum
The President's Welcome and Picnic, including the address by Chazen, capped a weekend of activities that began with move-in on Saturday.
Assisted by more than 150 Rowan students, faculty, administrators and staff, including President Houshmand, freshmen filled rooms in six residence halls – Chestnut, Evergreen, Mimosa, Magnolia, Mullica and Willow – as they made that emotional first break from parents, siblings and friends.
"Everyone was so friendly," said Annie Harris of Camden, whose daughter Yolanda moved into Mimosa Hall. "I feel like she'll be safe here."
Assisting with the move-in, senior accounting major David Makanoff joined a half dozen members of the Phi Kappa Psi fraternity in helping out.
He believes the large turnout by so many to help incoming freshmen get settled sends a strong message.
"It sets a precedent for the type of people you'll meet here," he said.