Empty bowls and bellies
Empty bowls and bellies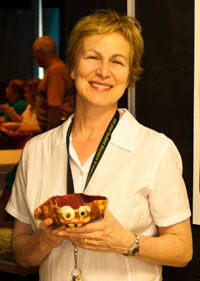 Rowan art education students held a feed-the-hungry fundraiser this semester that did more than raise money - it raised awareness.
Taking part in the nationally-recognized "Empty Bowls" program, Rowan art ed majors, working with middle and high school students, hand-made several hundred ceramic bowls and sold them with fresh, delicious soup in a benefit for the Food Bank of South Jersey.
Associate Professor Jane Graziano said art ed majors often work with high school and middle school students in practice settings but this semester accepted the challenge of a service project intended to not only teach but inspire.
Graziano said students were tempted to add to aid efforts for Haiti following January's devastating earthquake but instead focused on need closer to home.
Considering the massive aid efforts for Haiti, she said, "we anticipated that our local food bank's donations might be less and we wanted to help them."
She said the Empty Bowls program, a nationally recognized model in which students make ceramic bowls and hold a Soup Night to raise money and hunger awareness, seemed a great fit for both Rowan undergraduates and area middle and high school students.
In addition to about 20 Rowan art ed majors, some 50 students from Delsea Regional High School in Franklinville, Clearview Regional Middle School and High School in Harrison Township, and Williamstown High School took part.
In all, students made about 300 bowls and sold them with soup and bread donated by Sodexho Campus Services during a Soup Night in Westby Hall April 7.
"The empty bowl becomes a symbol that there are empty bowls and hungry people in our community," Graziano said.
She said lessons involved the actual making of the bowls - rolling, shaping, glazing and firing - but went far beyond to lessons on creativity, innovation, imagination and helping the less fortunate.
"Hunger is in our backyard in America so if you're going to live in a community you need to be aware of those in the community," she said.
Junior art education major Patty Nehrbauer, 20, of Long Valley, said the project helped her to better engage with students today but its long-term value could influence students for years.
"This type of work is significant because it shows that people care and how even on a small scale they're able to help out," she said.
Junior art education major Bernadette Baum, 22, of Browns Mills, said the effect on her students was evident and immediate.
"It was nice to see them feel like they were part of something bigger than themselves," Baum said. "That was rewarding for me."