Mega Milestone: Rowan Football Turns 50
Mega Milestone: Rowan Football Turns 50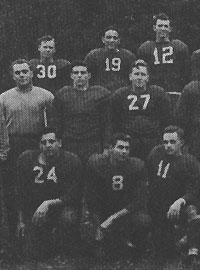 When the Rowan varsity football squad took to the field September 12 it wasn't simply another season opener.
The non-conference match-up with Lycoming College in Williamsport, Pa. (which Rowan won 29-7) was the team's 50th season opener. Approaching Homecoming on Saturday, the team has a 5-1 record for the 2009 season with four more regular season games to go.
In it's first 49 seasons, Rowan Football clinched 16 conference titles and played in the Amos Alonzo Stagg Bowl, the Division III championship game, five times.
The program compiled a record of 298 wins, 182 losses and eight ties for a .619 average but the team itself was sidelined for a dozen seasons starting in 1950 by a flagging interest in sports on campus and the outbreak of the Korean War.
Football returned to campus in 1963 under the direction of Coach Richard Wackar, the longest-serving head coach in Rowan football history, but with a budget of just $5,000. The 2009 Homecoming game will feature a halftime ceremony in which the new Rowan football stadium will be named for its legendary coach.
Recalled Wackar of his meager first-season budget: "That $5,000 had to cover everything - uniforms, officials, travel, food, everything."
Wackar, who led the team for 17 years, said in his first season, 1963, he fielded a junior varsity squad but even when varsity resumed in 1964 the team lost game after game as the players worked to find their footing.
"We lost 18 times before winning a game. In fact, the first team we didn't lose to - Kutztown - we tied. We were into the third season when we finally won a game."
When Wackar, who was also a storied Glassboro State College basketball coach and full professor, restarted the football program, his players didn't even have a field to scrimmage on and were forced to use the baseball team's outfield behind Bunce Hall.
The team's first field of their own - a rock-strewn peach orchard behind Esby Gym - was unplayable until Wackar and some players rented a bulldozer and sodded it themselves.
"We went out and plowed the field into a turtleback so the rain could run off," the coach recalled.
The next problem the team faced was equipment - they had none.
"I heard of a semi-pro team in Manasquan that went out of business. The owner, a Mr. James Howard, had all this equipment so we called him up and asked if he'd like to donate some equipment like shoulder pads and hip pads and he said yeah, come on up. So I got a dump truck and drove up to Manasquan and that same James Howard, who later became a congressman, and now has a highway named after him, gave us some equipment."

It took awhile, but Rowan football got good, very good

Though the team has yet to win a national championship, Rowan developed over the years into a formidable and consistent gridiron powerhouse. The Profs last season went 8-2 and have been ranked sixth nationally for 2009 by the Sporting News for Division III schools.
The team has produced at least two NFL players - running back Dino Hall, who played five seasons with the Cleveland Browns, and defensive tackle Tim Watson who was signed by the Seattle Seahawks in 2000 but injured prior to the start of the season and lost his position.
Hall, now a teacher and coach at Pleasantville High School, was small by NFL standards at 5-foot-7 and 165 pounds but size never stopped him.
"He was one of the toughest guys I ever played with," said Doug Dieken in 2007, a left tackle for the Browns for 14 years.
Present head coach Jay Accorsi, the team's seventh, said Rowan attracts top talent from around the state and beyond but, for him, playing ability alone is not enough.
"Anybody can be a good football player but can they be a good student and a good person? That's what we're interested in," he said.
Since taking over as head coach in 2002 Accorsi has complied a .747 winning percentage (59-20) and led the Profs to four New Jersey Athletic Conference titles, four appearances in the national tournament and two trips, in 2004 and 2005, to the NCAA Division III Championship Tournament semifinals.
Because Rowan is a Division III university it cannot offer athletic scholarships but that does not diminish the pool of interested scholar/athletes, Accorsi said.
"Especially now, with the economy, if a student athlete isn't getting a big scholarship to play football - and only a handful get full scholarships - their next viable option is a good in-state school," he said.
Though Rowan clinched the NJAC four times during his tenure, winning the conference tournament remains the goal this season because it's the gateway to a national championship.
His 2009 squad is considered very strong - 24 of the 100-man roster are seniors and quarterback Frank Wilczynski, one of four captains, made All-Conference.
Running back Ryan Leafey, one of the co-captains, gave up a scholarship to play in Iowa after high school so he could attend Rowan.
"One of the biggest things about this program is it stresses loyalty and being honest with the people around you," Leafey said. "I feel those are lessons that will play a big part in my life."
As for the team's odds this season, Leafey said he expects big things but not just because the Sporting News and other publications expect them too.
"You can't get caught up in the preseason," he said. "It's not where you start in the season but where you finish that counts."

*** Listen to the award-winning documentary From First Snap to Stagg: The History of Rowan University Football, produced by WGLS-FM and the Radio Broadcasting II class: Part 1 / Part 2 ***