Rowan innovation fund expands to $25 million
Rowan innovation fund expands to $25 million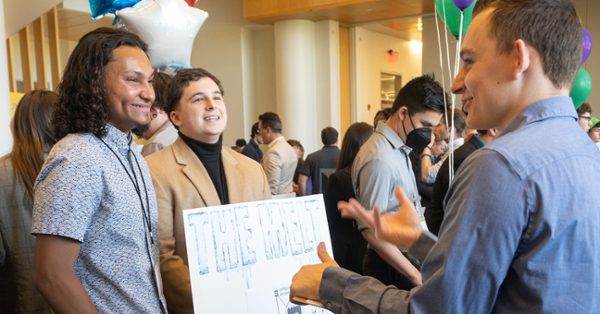 Rowan students exhibit start-up ideas, some of which could qualify for RIVF support, during April's New Venture Competition & Expo in Business Hall.
Furthering Rowan University's commitment to a robust South Jersey economy, the Rowan University Foundation expanded its venture capital fund in August to $25 million.
The Rowan Innovation Venture Fund (RIVF), which launched with $5 million in 2014 to seed visionary start-up ideas, received an additional $20 million to back a pipeline of evolving businesses from within and outside the Rowan University community.
Since 2015, the RIVF has seeded 14 South Jersey-based and regional startups, many launched by University students and faculty.
"We've invested approximately $4.3 million since the Fund's formation," said RIVF Managing Director Ernest Holtzheimer '12, MBA '13. "I work closely with our advisory committee to determine if an opportunity meets the Fund's criteria for investment. Even if we don't initially approve an investment, we often offer resources available through the Fund and the University to provide companies with guidance and information that can help prepare them for outside investment, whether it's through the Fund or other investors in our network."
Though much of that investment has been in companies founded by Rowan students, faculty or alumni, the Fund's broader mission supports a key goal of the University – economic development beyond campus.
"At $25 million, the RIVF is among the largest venture funds from a public university in the region," said Rowan University President Ali A. Houshmand. "As Rowan grows, part of our mission must be to support innovators with the ideas and ability to launch businesses, create jobs and improve our community."
Houshmand noted that the RIVF's expansion coincides with a push to make Rowan more entrepreneurial, including, in the last year alone, a partnership with Virtua Health to create a dynamic and transformational academic health system that will drive innovation, research and clinical care. The institution is also launching the Rowan University School of Veterinary Medicine, a first for New Jersey, and created the School of Innovation & Entrepreneurship within the Rohrer College of Business. (Last fall The Princeton Review and Entrepreneur magazine named Rowan's entrepreneurship program among the 50 best in the U.S.) 
A range of support options
While the RIVF invests up to $500,000 in scalable companies, it is poised to significantly increase the number of companies it supports, including smaller start-ups that need lesser amounts of capital to get started.
To date, the Fund has provided more than $2.4 million to life sciences companies, more than $1.2 million to software/mobile app firms, some $450,000 to telecommunications startups and $150,000 to entrepreneurs in the food and beverage sector.
Early recipients include:
HALFDAY Tonics (originally called Topos Teas), a company founded by two Rohrer College of Business alumni that produces a line of healthful tea drinks and today is sold in more than 1,400 U.S retailers, including Target and Publix stores;
ExpressCells, A Philadelphia-based company that uses CRISPR DNA editing technology to create cell lines for improved drug development and biological research; and
MRIMath, a health science company co-founded by Rowan faculty that, among other things, provides physicians critical information for life-saving procedures like radiation and surgical therapies for brain cancer.
HALFDAY Tonics co-founder Mike Lombardo, who started the company with his Rohrer College of Business classmate Kayvon Jahanbakhsh, said RIVF seed funding of $75,000 was critical in getting started.
"The ability to say that our university committed $75,000 gave us a lot of credibility and made an easier pitch to investors," Lombardo said.
Ultimately, he said, he and Jahanbakhsh raised about $1 million in first-round funding for HALFDAY, a beverage line featuring low sugar and beneficial prebiotics.
RIVF and Rowan University Foundation board member Anthony Calabrese '78 said the Fund invests in promising companies in exchange for equity and, upon a liquidity event, such as an initial public offering or sale, all amounts earned by the Fund are reinvested to support more businesses.
"Our goal is to support innovation at Rowan and to help attract researchers, faculty and students with an inclination to develop a product or service to be commercialized," Calabrese said.
Dr. Eric Liguori, founding head of Rowan's School of Innovation & Entrepreneurship, said that in expanding the RIVF Rowan made a further commitment to the region's economic future.
"The RIVF enables students, faculty and community members with great, scalable business ideas to get started," Liguori said.​ "With $25 million, we'll be able to fund a whole lot more."
Venture capital fellowship program
In addition to providing start-up financing, the RIVF is creating a fellowship program for students to learn how venture capital funding works.  With plans to begin in the Spring 2023 semester, students of all majors may soon apply for acceptance into the fellowship program, an opportunity that will be especially valuable to those seeking careers in finance or the venture capital field as well as to students who may wish to explore entrepreneurial projects of their own.
"It's a significant opportunity for students interested in gaining hands-on experience in innovation, entrepreneurship and investing by supporting the operations of the Fund," Holtzheimer said.
Apply now
The RIVF accepts and reviews applications on a rolling basis and encourages interested parties to apply online.