Using artificial intelligence to work smarter, not harder
Using artificial intelligence to work smarter, not harder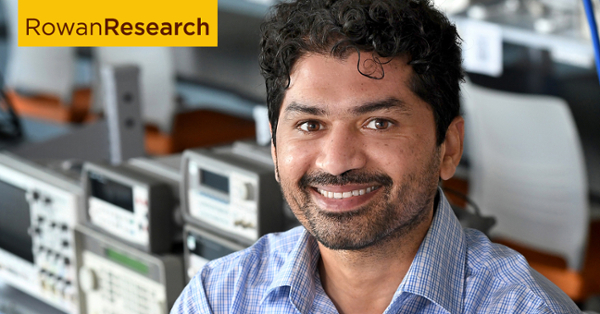 Dr. Ghulam Rasool is co-director of the Rowan Artificial Intelligence Lab.
Humming in the background of everyday life, artificially intelligent systems are operating complex tasks—but there are limits. 
They can't adapt to ever-changing environments without human help. They can't yet teach and maintain themselves. And their full potential has yet to be realized. 
Ghulam Rasool, Ph.D.
Computer engineerAreas of expertise:
machine learning, artificial intelligence, biomedical image processing
More information
It's an area of research that intrigues Dr. Ghulam Rasool, an assistant professor of electrical & computer engineering in the Henry M. Rowan College of Engineering and co-director of the Rowan Artificial Intelligence Lab. 
One of his research projects aims to develop a rigorous, scalable learning framework that will enable AI systems to self-assess their performance and continually expand upon their prior knowledge.  
"For a system to be truly 'intelligent,' it must feature learning frameworks that are aware of their own limitations, have an expandable knowledge base that can successfully address failures after deployment, and have capabilities to operate in a continuous and dynamic real-world environment," said Rasool. 
The project could improve health care, intelligent transportation systems, surveillance, severe weather and flood monitoring, aviation and rotorcraft safety, agriculture, vegetation and endangered species monitoring, and smart and connected communities.  
But AI is useful, regardless. 
Take, for example, Rasool's project to create an accurate database of helipads for the Federal Aviation Administration that will update automatically using Google satellite images. 
"The updated database is going to lead to helicopter safety," Rasool said. "People will have access to updated information on landing sites. They will know if there is any landing site in this area and they can go and land there. Right now, the databases are outdated. This is going to save human lives."
Rowan University researchers are passionate about what they do. Find more at Meet Our Researchers.